A postcard from Cruden Bay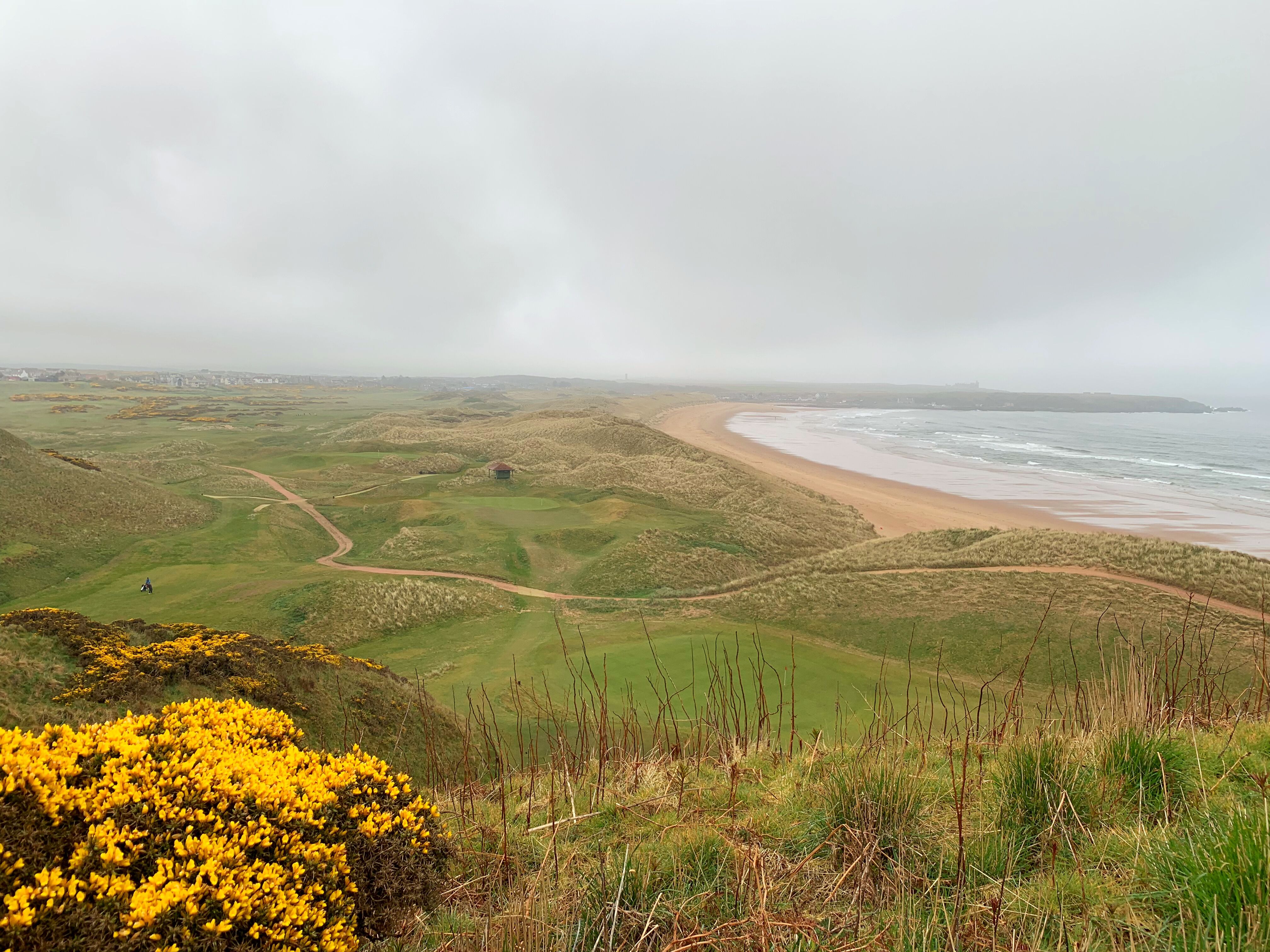 A gray, rainy afternoon on day 5 at spectacular Cruden Bay
Amazing, how the weather can change, on the North Sea, over the space of a few hours, and just over 100 miles.
In the morning we'd played Craighead Links near Crail in shirtsleeves. And in the afternoon, Cruden Bay Golf Club was shrouded in gray, the rain hitting as the afternoon went on, and the wind increasing.
Of course, weather like that is inherent in links golf, something to expect in Scotland in April. And we've had overall fabulous weather, so can't complain.
But this is such a fantastic course that it would have been a wonder to behold in late-afternoon sunshine. (In 2016, with Blaine Newnham, Tom Cade and Rob Perry, I played Prestwick, on a gray, overcast morning. Was less than charmed. Then, in the afternoon, the sun came out, and Rob and I walked the course taking photos, and I thought the place to be amazing.)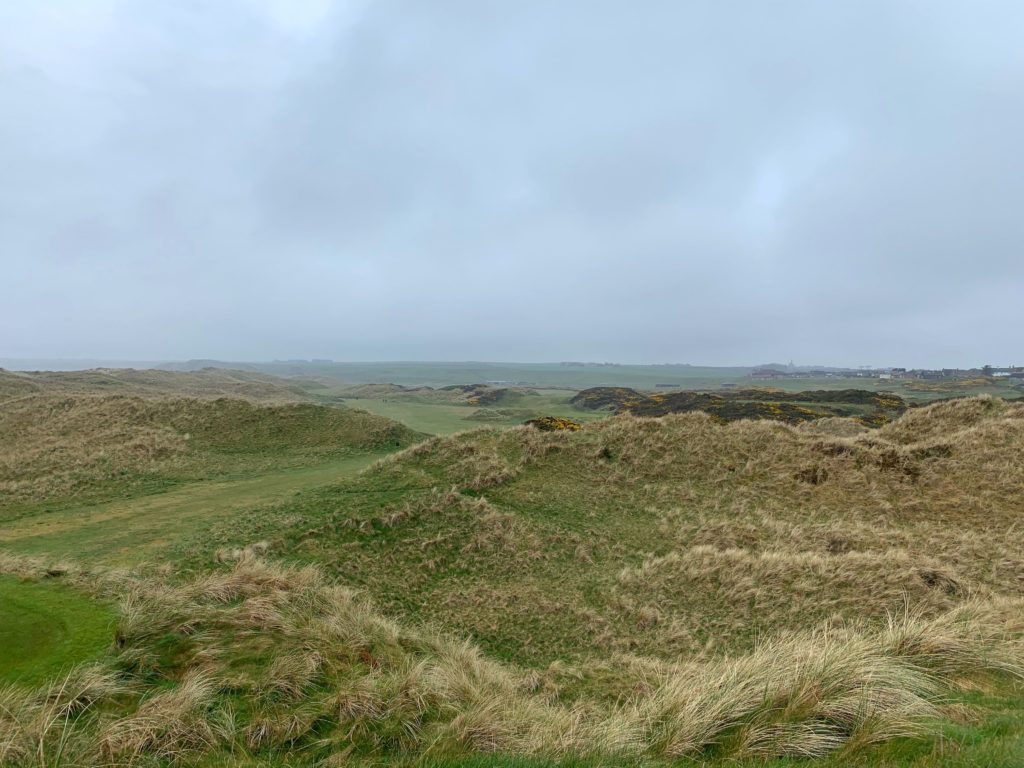 Wrote James W. Finegan:
"Against a backdrop of North Sea whitecaps, stretching away to the horizon, the sand hills rise as high as 60 feet, their shaggy slopes covered with long and throttling golden grasses. For sheer majesty of setting, no Scottish course surpasses Cruden Bay, and only two or three might claim to equal it."
Old Tom Morris laid out the original holes in 1899; Tom Simpson and Herbert Fowler  reworked it in 1926, though much of Morris' routing and greensites remain in tact.
Cruden Bay is impressive. Beautiful, tough holes. The hike up to the ninth tee, for a great view, 360 degrees, is a HIKE, steeper and longer than the hike on the back nine at Bandon Trails in Oregon — and where they give you a shuttle. A foursome took our photo here and let us play through; I think they were still catching their breath.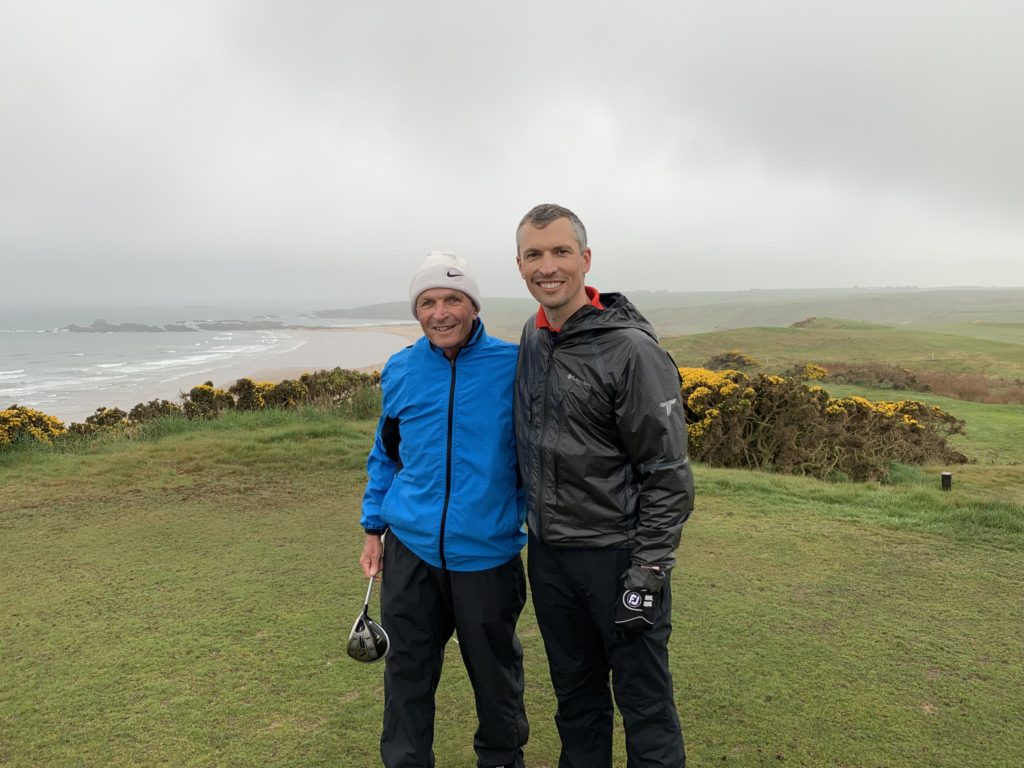 The 10th tee opens the door to a different world, as if separated from earlier and later holes by the dunes; it's a sudden revelation, as if walking out of a jungle and seeing a totally unexpected view.  It's one of the most impressive, breath-taking vistas I've seen in golf.
And ultimately, there are lots of blind shots here and ensuing ball-hunting.
Consider Finegan's description of the par 3 No. 15:
"We stand on an elevated tee and gaze over broken ground down a dune-framed chute. Nothing beckons. Both the green and flagstick are hidden. We take it on faith that they await."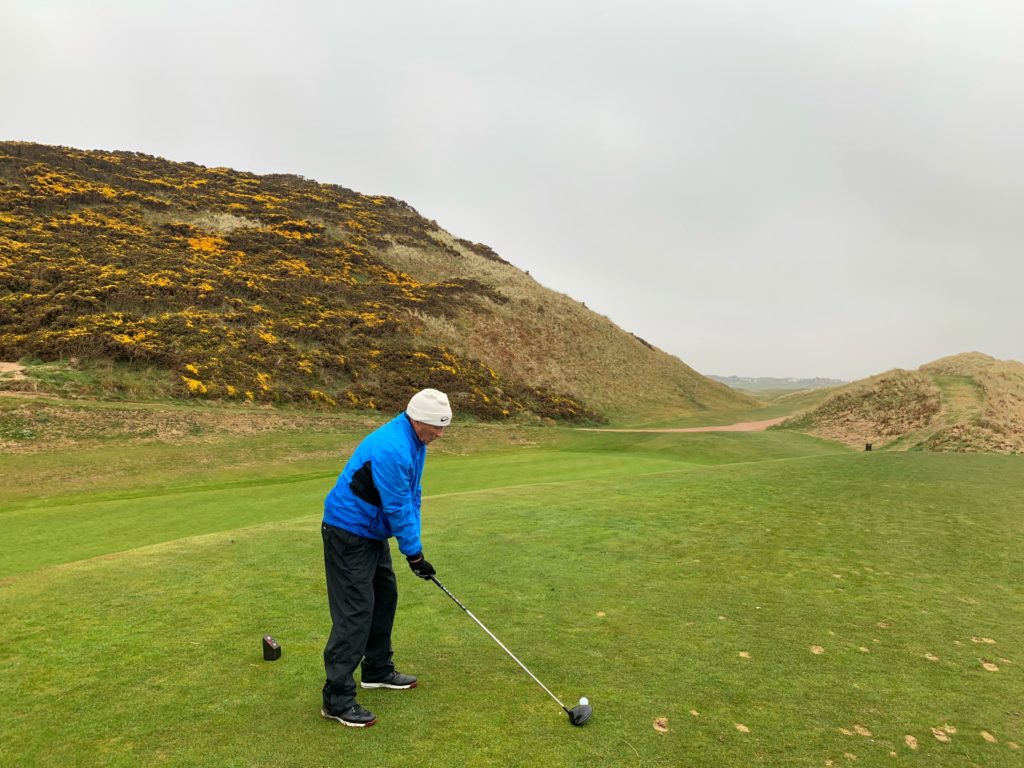 From our yellow tees (5,862) this hole played 195 yards; I hit driver, found my ball on the edge of the green and made bogey. Jason's shot, seemingly on the same line, was unfindable. Ah, links golf.
At the end of the day, I had three pars for a 48-48-96, besting Jason by two shots. I'd love get back here one day.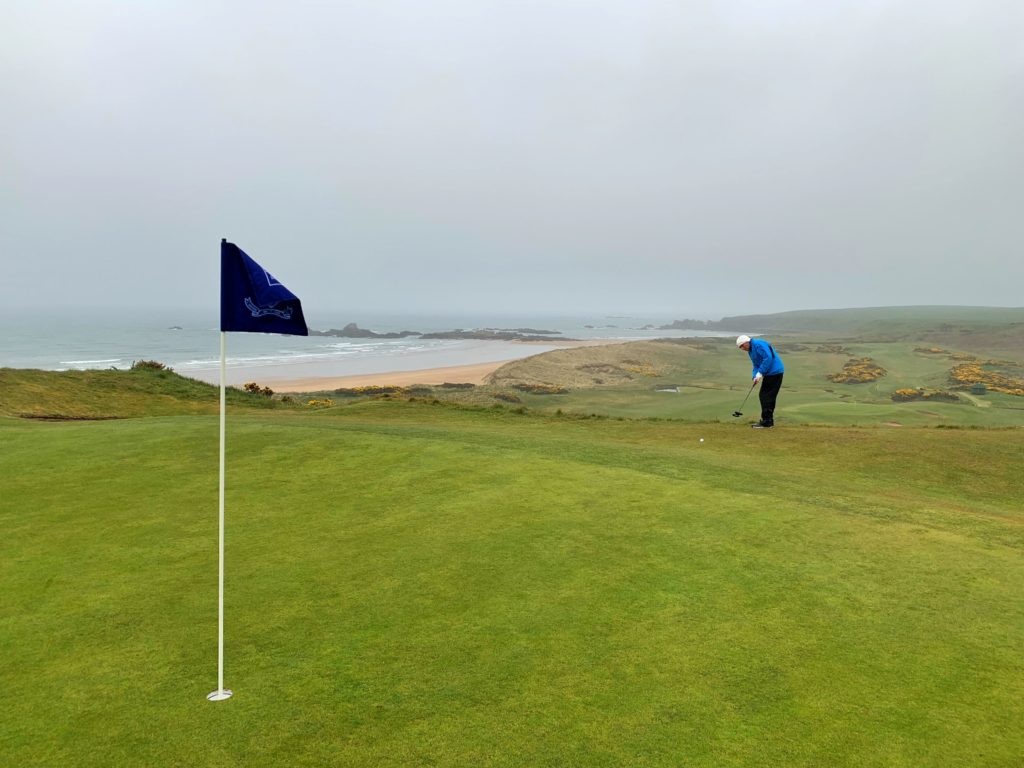 A putt from the back at No. 9 where I made bogey./photo by Jason Bellamy
Next: Carnoustie!
---
Tags …