A postcard from Machrihanish Dunes
On the third day, a 21st century course that seems centuries old.
The forecast for Thursday, April 25, had initially called for rain over much of Scotland. But by the time we got to Machrihanish the outlook was more favorable, and the morning suggested there would be sunshine, and there was.
I had played Machrihanish Dunes in 2016, on a writing trip with Blaine Newnham, Tom Cade and Rob Perry. Then, the course, which opened in 2009, was just seven years old.
Machrihanish Dunes has quite the backstory. The golf course was designed by Scotsman David McLay Kidd, who had vacationed in this area as a youngster and who designed the original course at Bandon Dunes. Kidd's work was limited by the site's designation as a Site of Special Scientific Interest because of the presence of several endangered species. On the 275 acre site, only seven acres were disturbed, to create tees and greens; the rest of the course was found by the mower.
Kidd has made the point that the course would need decades to evolve, the way the courses of Old Tom Morris and Willie Campbell had evolved. We would be playing it this time at the end of just its first decade. Kidd's father, Jimmy Kidd, renowned in Great Britain as an expert in course management, sent me a wonderful e-mail outlining some of the updates in recent years — the sixth green moved off the dune because of excessive damage by ocean winds and salt; some greens made slightly larger; landing areas on No. 17 improved; a tee relocated on No.11.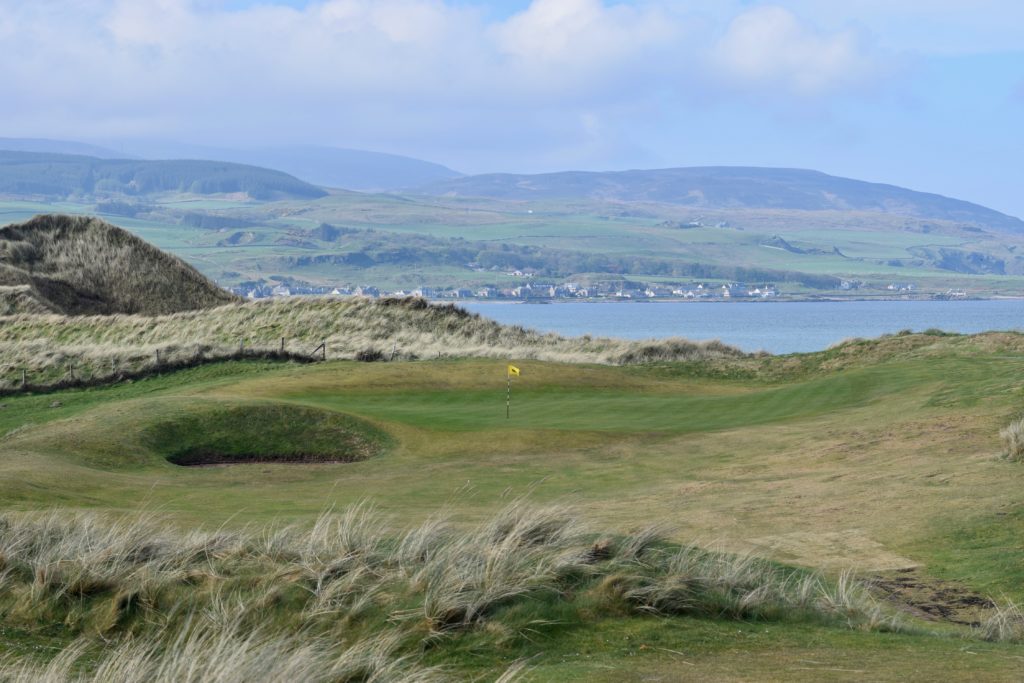 Alas, he made no mention of the par four No. 18, the toughest and least-friendly closing hole we would play on the trip, and that includes Carnoustie with its Barry Burn; Mach Dunes' finishing hole, featuring a blind drive to a landing area, then an uphill dogleg left that's another blind shot, is as challenging as there is.
Thing of it is, Machrihanish Dunes seems as if Old Tom himself had just left it; it is rugged, natural, starkly beautiful. The fairways are beyond "humpy," as James W. Finegan would have said. There are mounds, swales, tough bunkers. It is a wonderful complement to the original Machrihanish Golf Club, which dates to 1879.
Again, Jason and I were fortunate to play on our own, with a 9 a.m. start, playing the yellow tees at 5,849 yards. The first time through, he eagled the par 4 No. 4 hole, short (216 yards) but requiring a perfect tee shot over a dune to allow the ball to roll into a punchbowl green. He drove the green, and sank, what, a 20-footer? A wonderful moment, en route to a 91. My own round featured four pars en route to a 99.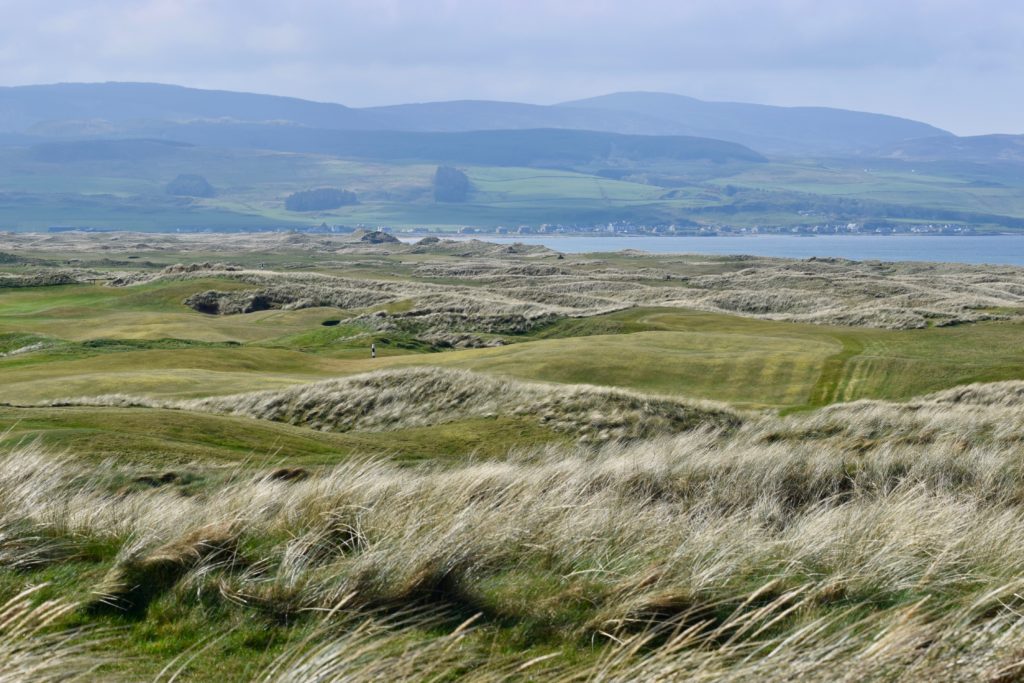 (The shot of the trip, perhaps, was Jason's escape from the dunegrass just above the beach, which enabled him to save bogey.)
Machrihanish Dunes is not an easy walk; there are meandering distances between many holes because of the SSSI requirements, and once we found ourselves playing the wrong hole. But it was an awesome experience, out there in the dunes, and we finished in time to go around again, slipping out ahead of a local foursome that was gearing up for the incoming rain.
"Going right back out?" one of the golfers asked Jason. "Good on ye."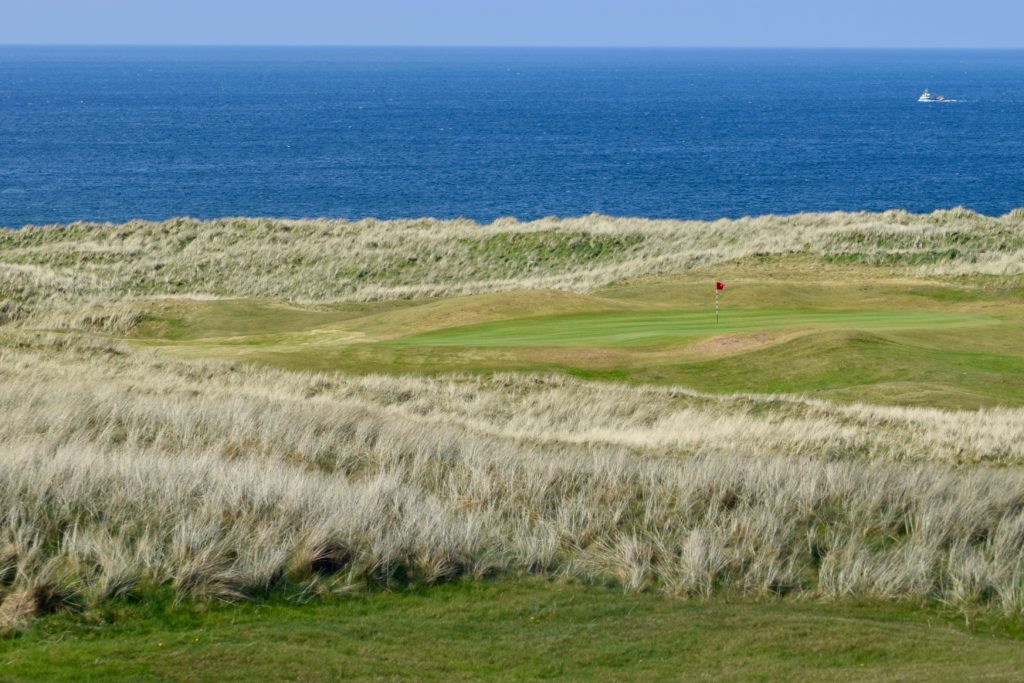 The rain hit for while, then stopped. Jason had a 98, myself a 99 again. I had lost four balls in the morning, but just one in the afternoon; my budget of two sleeves a day seemed to be holding up.
A wonderful day. I told Jason that I would have rather had that amazing day, the two of us on Machrihanish Dunes, than a round with the crowds on the Old Course.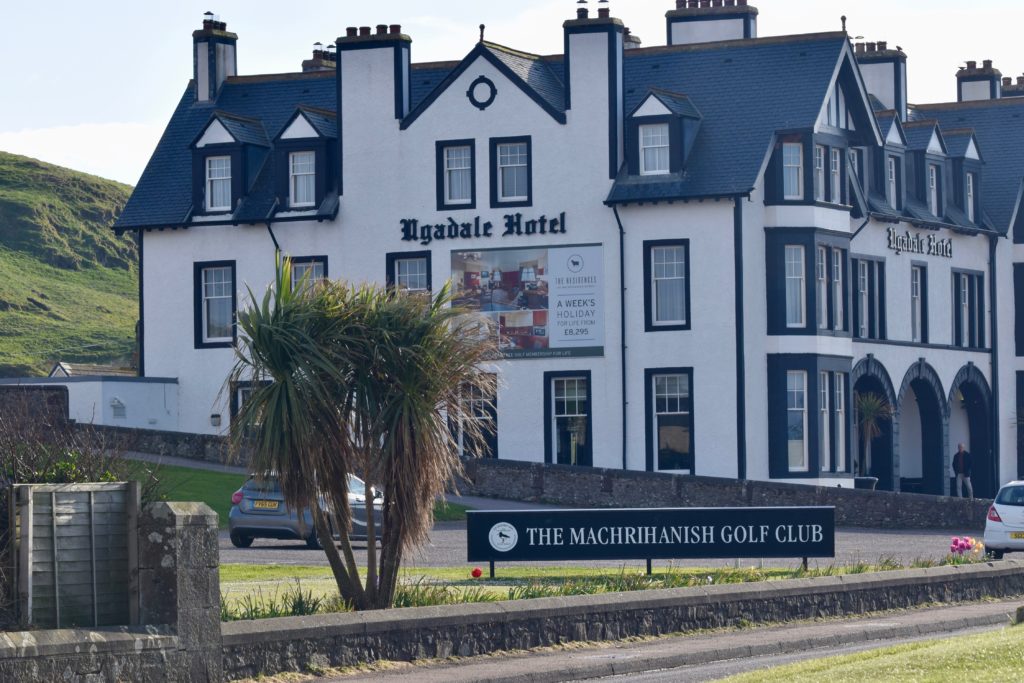 Next: Machrihanish Golf Club.
---
Tags …