A postcard from North Berwick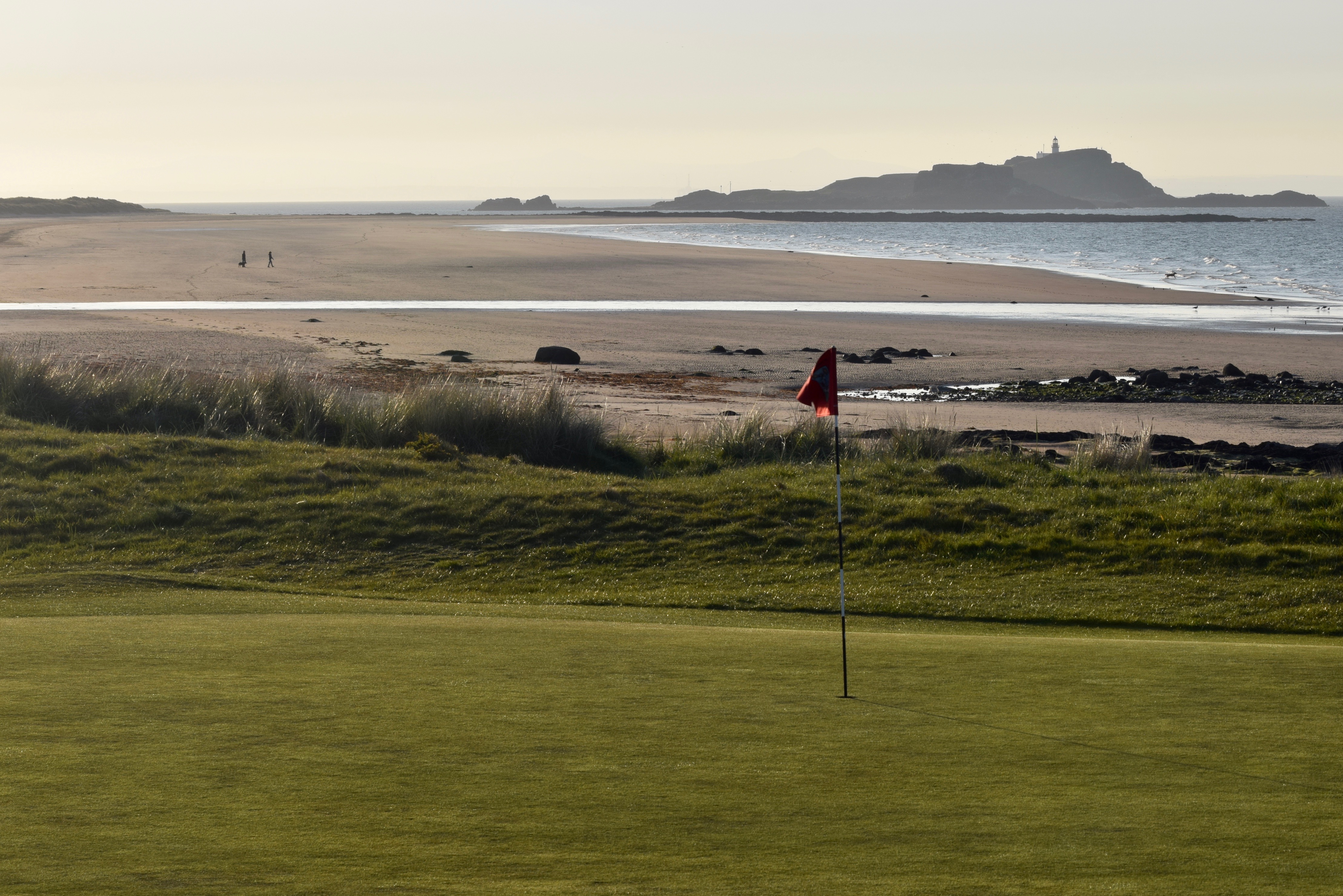 Our seventh and final day, my favorite course in Scotland, maybe anywhere.
I loved this old course south of Edinburgh when I played here in 2016; loved the views of the islands in the Firth of Forth and the view of the Kingdom of Fife beyond, and the stone walls, and the way the golf course started and ended in the town of North Berwick.
When we planned the trip, I very much wanted Jason to see North Berwick Golf Club.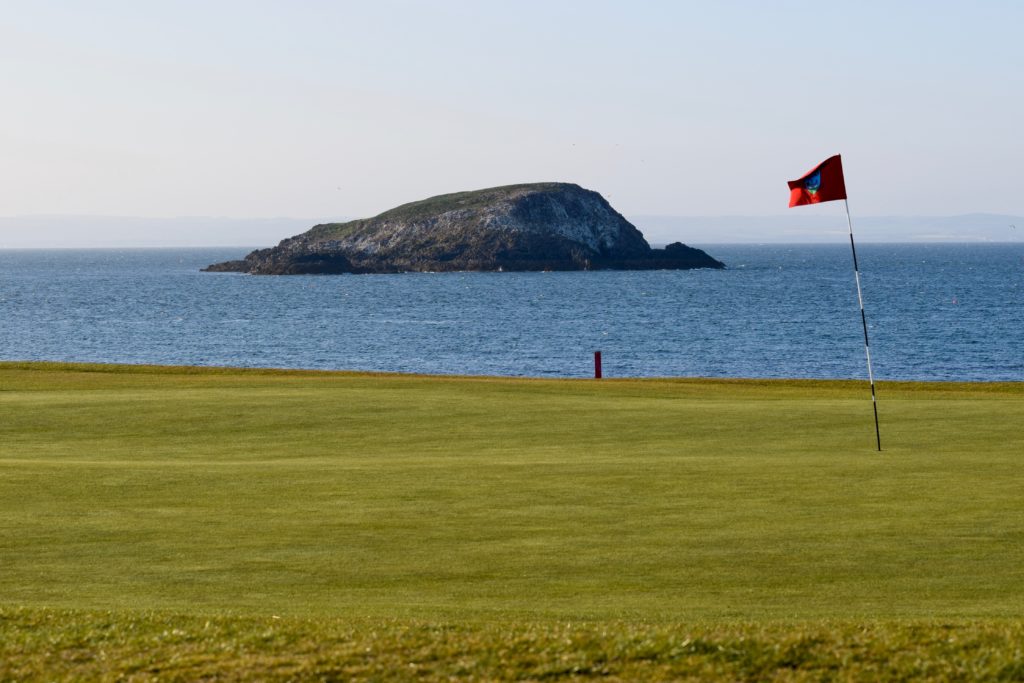 As our round unfolded, we were a twosome behind a very slow foursome, who seemed to have no clue about the basics of a decent pace, despite having caddies. After about four or five holes, the course marshal visited with them, and then us, suggesting that at some point the group would let us play through. (They never did, but the marshal's visit seemed to inspire them to pick it up a bit, anyway.)
But I told the marshal I wasn't in a hurry. It was my last round in Scotland, a sunny day, and I was playing with my eldest son. I had no reason to want it to be over. (Touched, he promised to meet us on the 11th tee, for a photo, and did that.)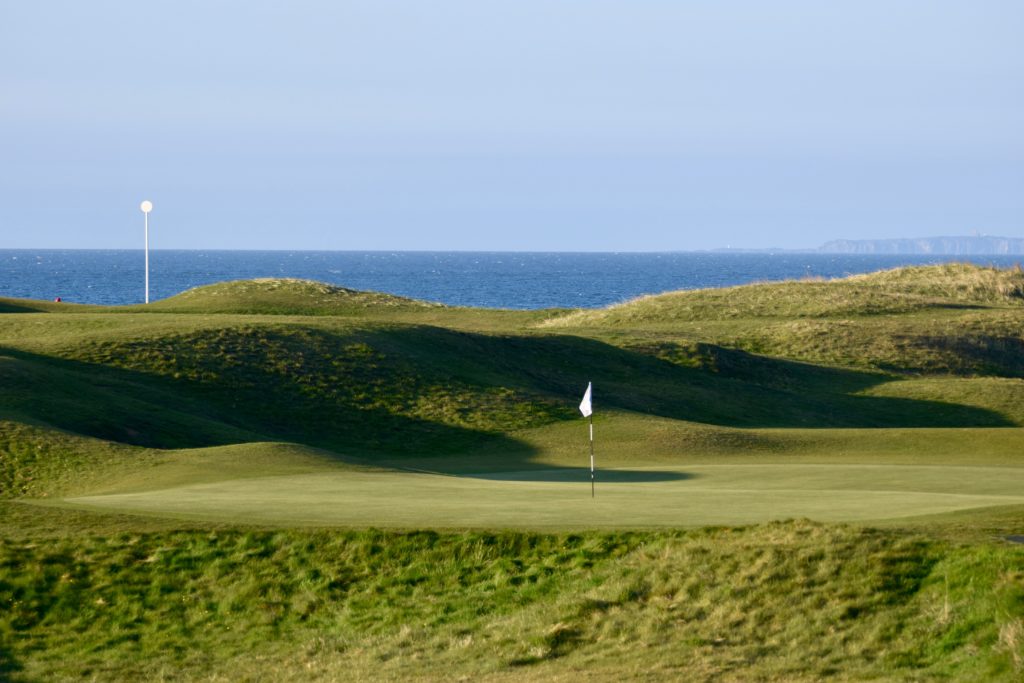 Simply, Jason and I had a special, wonderful time together. We are separated by a country, and time zones, he in Maryland, working near Washington, D.C., me in Eugene. We see each other at Christmas, with all the bustle of the holidays, and sometimes for a couple of nights in January or February when rates are lower at Bandon Dunes. Anything else is a bonus.
So, seven days of golf in Scotland, the two of us, was special. Jason has many great qualities — integrity, loyalty, work ethic, sense of humor. He took good care of Pops on this trip, laughed at my quips, and introduced me to Malcolm Gladwell podcasts on our longer drives.
We talked about his brothers, golf, baseball and, on our walk on the Old Course on Sunday morning, my thoughts about getting older.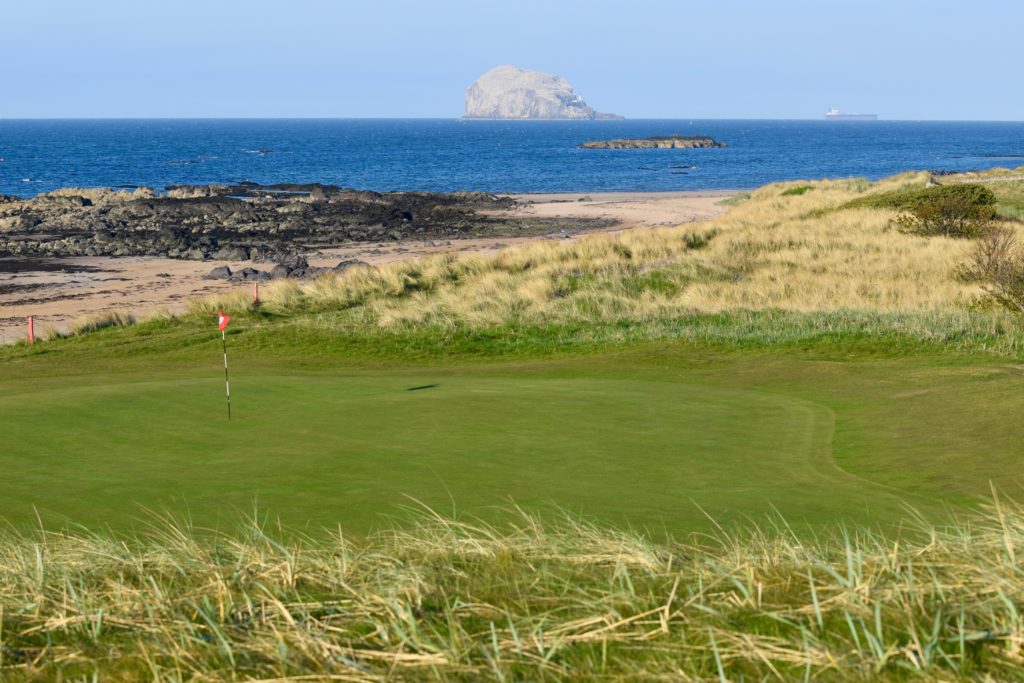 North Berwick has some iconic holes. The North Berwick Golf Club was founded in 1832. The par 3 No. 15 hole, called Redan, the green hidden behind a dune, has inspired similar holes in many places. The 16th hole features a long green with a swale in the middle.
The most unique hole is No. 13, a par 4, where the green is nestled behind and immediately abutting an old stone wall. Three years ago, I rammed my approach shot into the stone wall. I had thought about that hole often on this trip, how I would play it this time around.
And rammed my approach shot into the stone wall.
Then again, Jason lofted a shot that cozied up just in front of the wall, a position from which you can do almost nothing if you care about the face of your club, or your own face. (Pro tip: Avoid the wall.)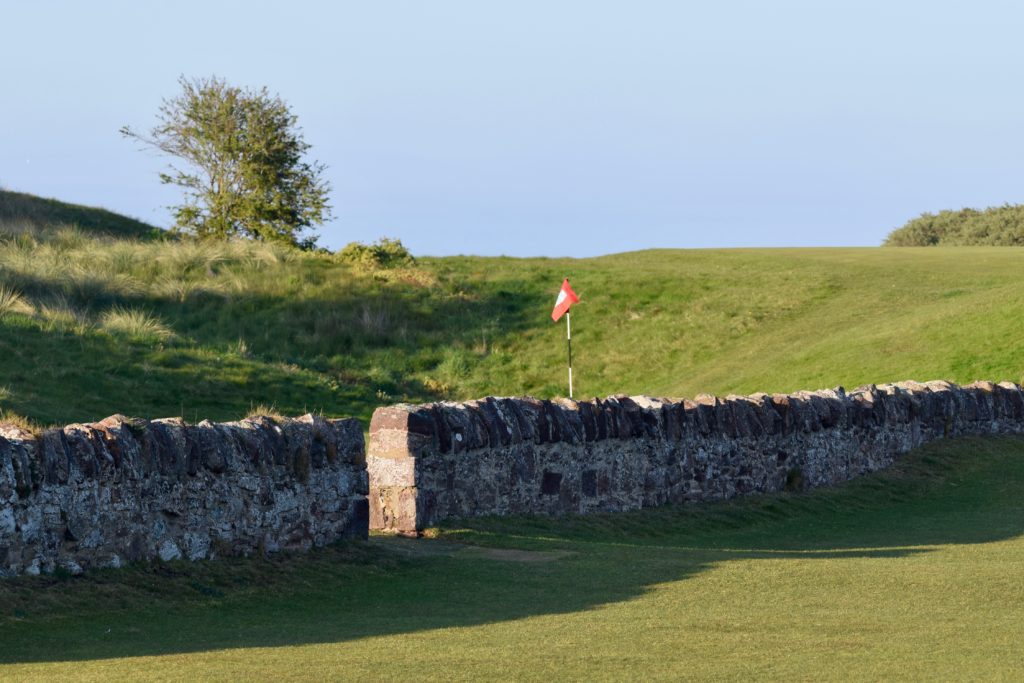 Overall, after that, I finished well. I closed with three bogeys and two pars over the last five holes, as the wind picked up and the course grew longer. On the last blind approach of the trip, to the green at the 17th, I had one my best strokes of the journey. Final score: a 97 from the red tees (5,775 yards). In the end, after 8.5 rounds and various wagers, I owed Jason $1; totaling all our scores, he beat me by one stroke.
In the big picture, as a 19-handicapper, I played well enough here to enjoy the rounds; I had some bad holes, but no bad rounds; for me, I played competently and had fun. For that, I credit my teacher, Bob Duncan at Emerald Valley in Creswell, who worked with me over the past weeks to get me ready for some of the shots I would need, and on my overall swing.
And, going back to some of the thoughts I had on the way here, I think my Dad would have enjoyed playing with us here; I think he would have been proud, and thinking of him here was inspirational.
As we walked down the 18th fairway, we noticed something we hadn't expected: an empty first tee box. After finishing up, we wandered over to investigate the possibility of another round, only to learn that on that day, members-only hours began at 3 p.m., and it was now four minutes past that.
By that point, the wind was up, and our bodies were tired; for the second day in a row, I happily carried my bag. We weren't devastated to be denied, but if allowed, we would have gone around again. We'd always go around again.
On an unforgettable trip of a lifetime, we played golf until they turned us away.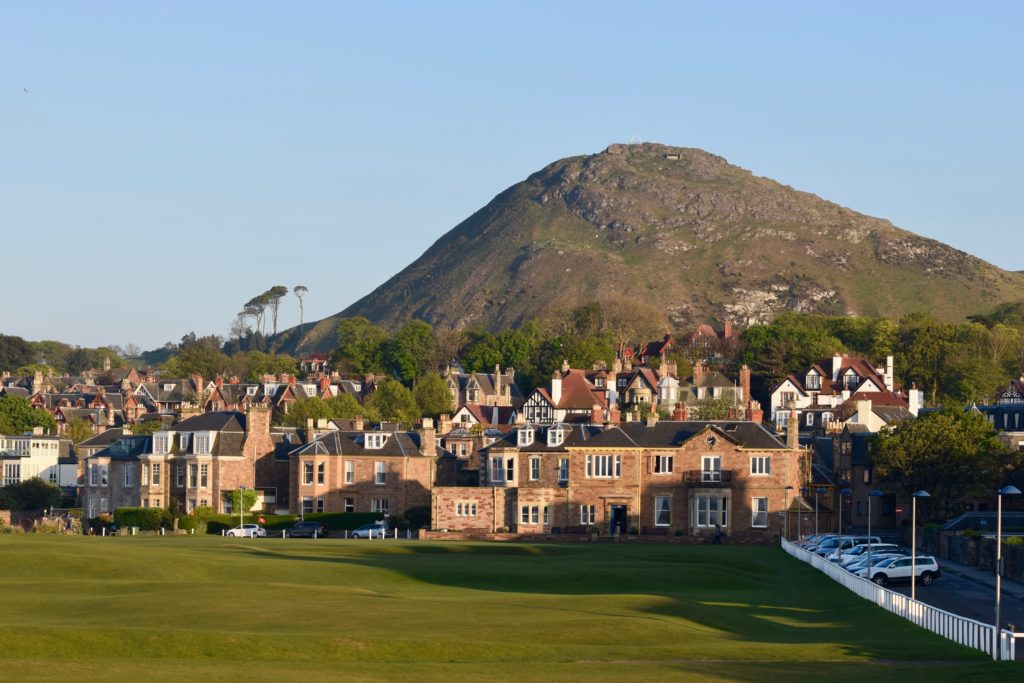 That evening we had another excellent Italian dinner in a place called Zitto. And for this night, I had reserved a room in the Marine Hotel with a view of the course and the Firth. We saw that view in the late afternoon and evening, and the next morning, as we left our room for the airport in Edinburgh and the flight home, we looked back and had one last glimpse of golf in Scotland.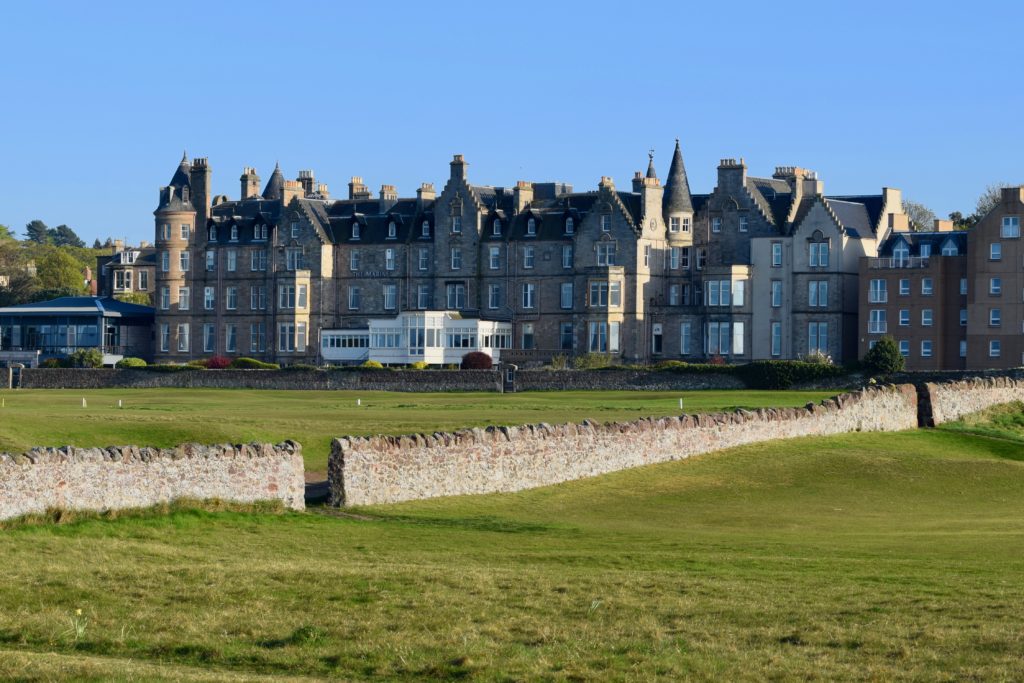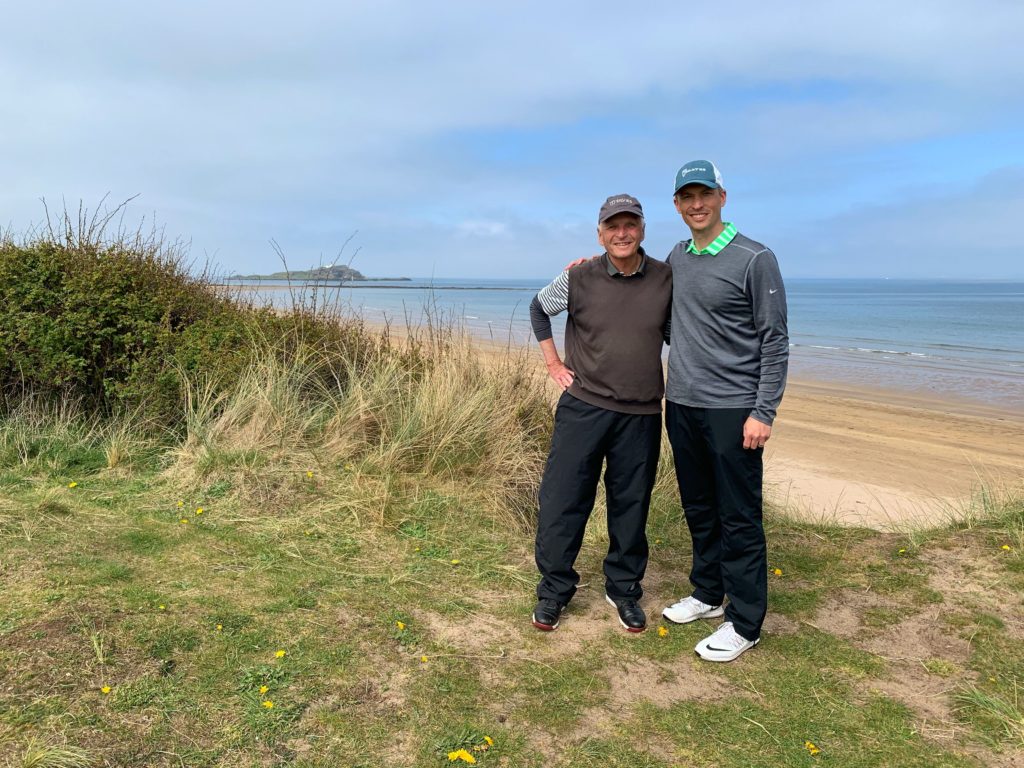 Last day, last photo together, taken by the marshal behind No. 11 tee at North Berwick Golf Club.
---
Tags …