A special birthday gift for Pops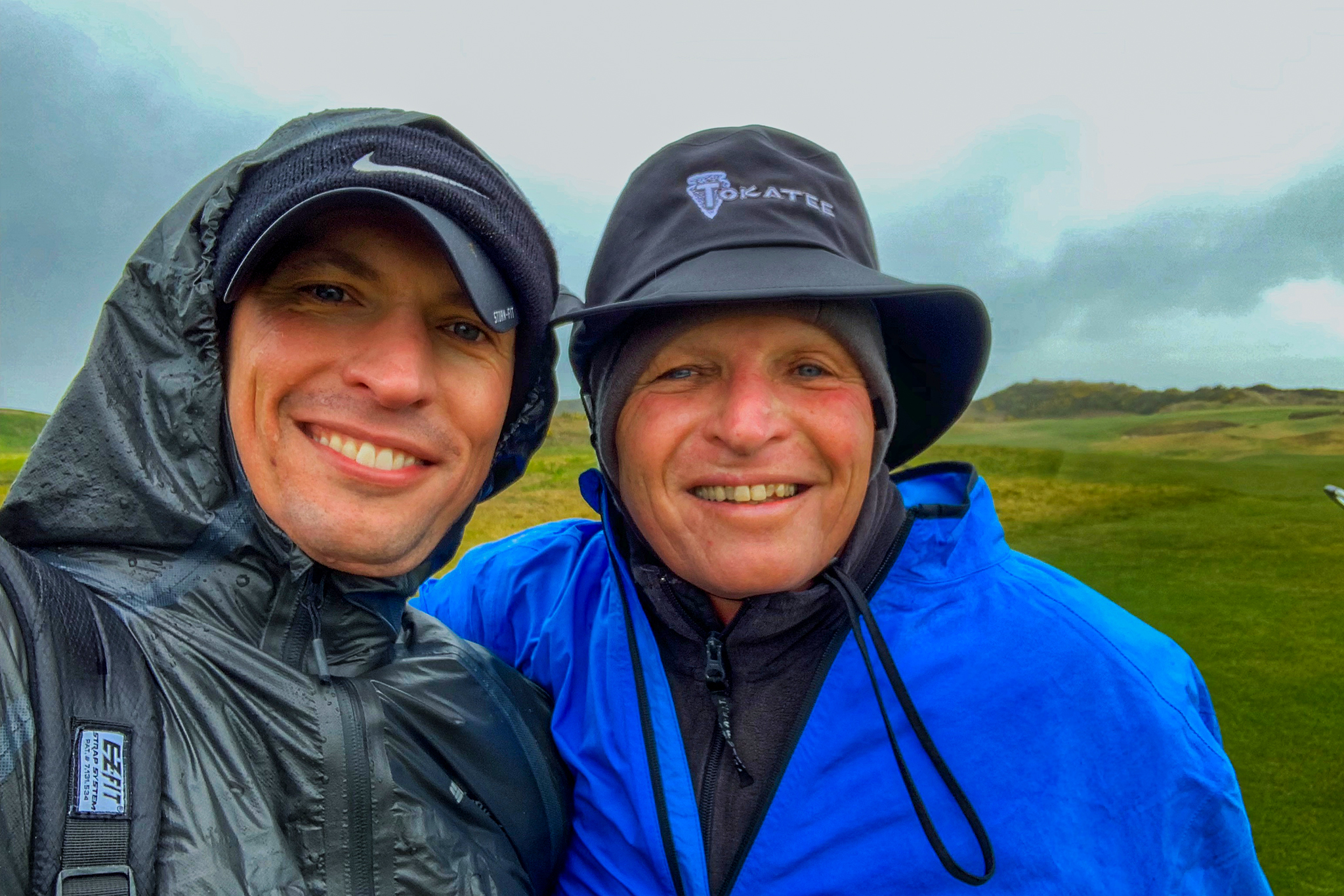 In advance of my 70th birthday, the gift of an April trip to the birthplace of golf
I love golf, and have written about golf, and had opportunities to play some wonderful courses, but I am not a good golfer. My handicap has crawled up to 19, trending the wrong way, and my best has been in the 16s. I had the early stages of a heart attack on a golf course five years ago, although I was playing so well, ultimately in the 80s, great for me, that I didn't tell my playing partner and forged on; the quadruple bypass surgery came a week later.
I broke my foot on a golf course two years ago, a Jones fracture following through on a swing. I was having a good round that day, too. If I could have played the last three holes on one leg, I would have done it.
I came close to giving up the game after that but didn't, for the main reasons that some of my greatest friends golf, and I love being with them on a golf course and I would miss them very much, and because my boys wanted their Dad to keep playing, so that once or twice a year they could come from away and join me.
(My youngest son, David, is a graduate assistant baseball coach at New Mexico State. He is athletic, coordinated and hits the ball a mile. He is going to be a really good golfer, despite lousy dad genetics. Middle son Michael, a Eugene-Springfield paramedic firefighter, doesn't golf, but he once offered the most memorable description of my golf game. He was 4 or 5 and watching me hit shots on the practice range of a course in Central Oregon. It was dusk, peaceful, and he sat in a chair and and watched shot after shot on a summer's eve. I cranked one deep into the woods on the left. From the chair behind a small voice asked: "Was that a bad shot Daddy?"  Ah, yes, I answered, that was another bad one.)
And so I play on. I take lessons. I practice diligently. I buy a new putter every couple of years, and other clubs. I have this hope that even in advancing age and with limited athletic ability that I'll get better. I hope. I hope that I won't hit stupid shots, or make stupid decisions, and that the hole will get in the way of a few putts.
Earlier this year, my oldest son, Jason, flew out from the East Coast to Oregon, and we made an annual cheaper-rates trek to Bandon Dunes Golf Resort in February, with two good friends, because the place is so special.
The first day, on Old Macdonald, was the worst weather in which I have ever golfed, winds up to 40 mph, pelting rain that never quit. The next day, on Bandon Dunes, the weather wasn't much better, but we finished early in the afternoon, and one of our group, smirking, asked me as the rain fell if I was going to go hit balls for a couple of hours, because I am known to be fairly obsessive about that.
"I think I'm going to go around again," I said.
Jason joined me; the other guys retreated to the hot tub, not unreasonably. The rain didn't stop. We were virtually alone on the course. After the 12th, Jason stopped to squeeze rainwater out of his insoles. It was wonderful, the waves crashing below, one of the best days in father-son golf, not because I scored great — with a chance to break 100 on 18, I skittered my third shot into a ravine — but because of the experience.
Which brings us to this. I turn 70 this coming September, and last year, Jason offered me an early present (the inspiration of his wife, Robyn Greene):
A father-son golf trip to Scotland in April, which is now here.
He and Robyn kicked in their hard-earned airline miles, and we plotted our itinerary, and I am deeply touched and grateful.
I had been to Scotland in 2016 on a writing trip with friends and colleagues Blaine Newnham, Tom Cade and Rob Perry. I  never envisioned being able to return. Now, I was inspired by courses I longed to show Jason on his first-ever trip, and courses that we wanted to discover together.
No, we won't be playing The Old Course in St. Andrews — the days didn't quite mesh — but we plan to walk every hole on a Sunday morning, because townsfolk have done so for years.
In the last week of April we have tee times at three courses I played before and loved — Machrihanish Golf Club, Machrihanish Dunes and North Berwick. We will discover three ballyhooed courses together — Royal Dornoch, Cruden Bay and (yes, this name fills this bad golfer with dread) Carnoustie.
When we booked our trip, I ordered for Jason a copy of Tom Coyne's "A Course Called Scotland," because Coyne's book on golfing in Ireland had been a wonderful guide on my writing trip there in 2015. Jason returned it to me at Christmas with a letter that said it part:
"Maybe it will rain the entire trip. Maybe we'll have more lost balls than pars each day. But even my worst vision of this trip has us together for a week with no care in the world other than getting a small white ball underground — well, and remembering to drive on the left side of the road."
After 40 years in daily journalism, and after spending some of my retirement doing freelance golf writing, I am a believer in research, on doing the homework, before an interview or writing a story or playing an historic golf course.
If I am to play a golf course laid out by Old Tom Morris in the late 1800s, I want to know that history before I go there. And so I've written some previews of where we're going, starting with a course that isn't even on our itinerary, except if our flight into Inverness is on time, and traffic is light en route to Dornoch, and the weather is decent, and there's enough daylight left, would we be able to drive the 16 miles up the road to play Brora?
Next: Brora Golf Club
---
Tags …