A trip to Ireland and Wales, with good friends, golf clubs, and questionable game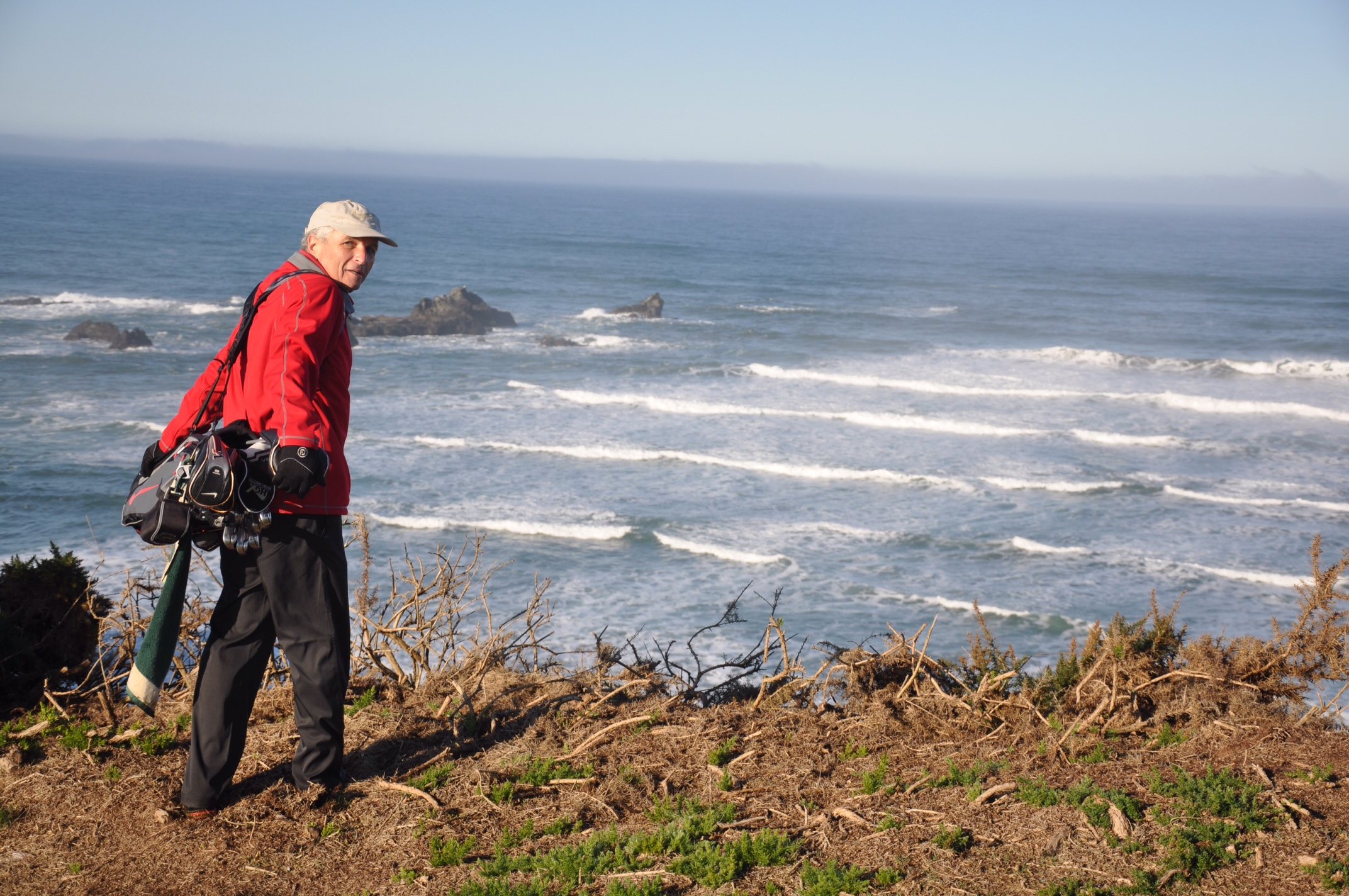 Looking forward to an amazing experience
Welcome. Thank you for finding this site. I hope that the stories that will come, about a pending trip to Ireland and Wales in early September, and the past writings that have been placed here, will bring you back, and that you'll share these stories with others who love the game of golf.
When my youngest son, David, saw the accompanying photo, me on the edge of a cliff overlooking the Pacific Ocean at the remarkable Bally Bandon Sheep Ranch, the wild course just north of Bandon Dunes Golf Resort, he asked if I was looking for my golf ball.
Well, I could have been.
I play to an 18-ish USGA handicap. A good round is in the high 80s, and, like my swing, there's nothing consistent about that occurrence. My enthusiasm for the game far outpaces my ability.
And I can't use age as an excuse; yes, I turn 66 at the end of September, but I'm a far better golfer now (there's a sobering reality) than I was when I started playing sporadically in the early 1990s.  When my father, a truly good golfer who'd learned the game as a lad in England, passed away, I brought his clubs home from California, but work and family responsibilities never left much time, and very limited athletic ability created a rather short ceiling anyway, despite lessons from many good teachers, who will remain unnamed here to protect their reputations.
I've improved some since retiring from daily journalism four years ago. (In all seriousness, any credit for that goes to golf instructor Justin St. Clair.) I have a weekday membership at Emerald Valley Golf & Resort in Creswell, where I play and practice (and practice, and practice). I play there, and at Tokatee, the gem up the McKenzie River. And I've been blessed as a golf writer to play some fantastic courses in the Northwest — all the courses at Bandon Dunes, more than a few times (which enabled me to meet one of my favorite people in golf, Grant Rogers); Chambers Bay once; the Sheep Ranch twice.
Now, I'm preparing for a first-ever golf trip to Ireland and Wales — as many as 14 links golf courses, on the Atlantic Ocean in southwest Ireland, and on the Irish Sea in Wales, in 14 days. They are among the best golf courses in the world, stunning beautiful (based on the photographs I've seen). It's all new to me, and given the beauty and historic nature of the golf courses I'm about to visit, I'm sure that I'll be overmatched, a guy wearing a torn tee shirt in a five-star restaurant.
Along with my clubs, and plenty of golf balls, I'm packing notebooks, camera and a sense of humor.
I will be the fourth in a foursome of Pacific Northwest golf media, with the following colleagues:
* Tom Cade, senior director of communications for the Pacific Northwest Golf Association and editor of Pacific Northwest Golfer Magazine, who plays to a 2 handicap.
* Rob Perry, of Bellevue, Wash., a professional photographer of all things golf, who plays to a 5.
* And my good friend,  Blaine Newnham, the former sports editor and columnist of the Eugene Register-Guard and the longtime columnist for the Seattle Times. Now retired from daily journalism, Blaine is one of the most respected golf writers in the Pacific Northwest and recently authored a book, "America's St. Andrews" about U.S. Open site Chambers Bay.
Blaine's love for the game and golf courses is deep; his understanding of course design, of the history and evolution of golf courses, is unique. In his 70s, Blaine plays to a 15; he is passionate, insightful and joyful about the game, the ideal golfing companion.
I first met Blaine around 1975, when he was the sports editor and columnist at the Register-Guard, a post he held from 1971-82. He remains, in my mind, the quintessential Eugene sports columnist, with a tremendous feel for the community; he covered the Kamikaze Kids, Steve Prefontaine, and the tough times of Oregon football.
Out friendship grew in the late 1980s, when he was the columnist at the Times and I was the columnist at the Register-Guard, and eventually sports editor, for a time holding both roles. We would talk about issues and ideas. When I became sports editor, after the death of John Conrad, of a sudden stroke, Blaine gave me simple yet profound advice that I tried to follow, best I could: "You have to care about everything now."
In short, Blaine was an inspirational mentor and role model for me, and I owe him a lot.
We've also had some wonderful times on the golf course — at Tokatee, Bandon Dunes, the Sheep Ranch, and Chambers Bay. Golf anywhere with Newnham: Great. Golfing trip to Ireland and Wales with Newnham: Priceless.
We will be playing links courses, and probably that deserves some definition. In the gorgeous book "True Links: An Illustrated Guide to the Glories of the World's 246 Links Courses," written by George Peper and Malcolm Campbell, with principal photography by Iain Lowe and a forward by Tom Watson, the authors report that there are more than 30,000 golf courses world-wide, but only 246, less than one percent, qualify as true links courses:
"Formed more by Mother Nature than man, the original links along the coast of Scotland were the game's crucibles, where golf as we know it as born. … Links golf is the game distilled to is core virtues. To walk beside the sea with a brisk breeze on your cheek and firm, sandy turf beneath your feet is to experience golf not only as it was hundred of years ago, but arguably as it should be today. …
"In contrast to inland golf, where a ball hit into water or trees typically costs at least a stroke, on a links course there is almost always a way out of trouble and into the cup — or three or four ways, if you can but discern them."
I think I need to buy more golf balls.
---
Tags …
"True Links: An Illustrated Guide to the Glories of the World's 246 Links Courses"
,
"America's St. Andrews"
,
Bally Bandon Sheep Ranch
,
Bandon Dunes Golf Resort
,
Blaine Newnham
,
Chambers Bay
,
Emerald Valley Golf & Resort
,
Eugene Register-Guard
,
Grant Rogers
,
Ireland
,
Justin St. Clair
,
Rob Perry
,
Tokatee
,
Tom Cade
,
Wales