Andrew Reinhardt: 'It's nice to finally win'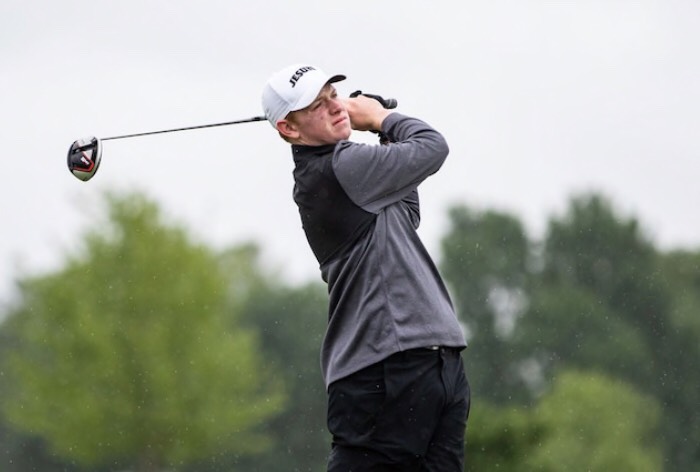 Oregon 6A champ's transforming decision to 'start going lower'
Andrew Reinhardt says he doesn't think about THAT putt very often, in fact hardly at all, as he looks forward to competing in the Oregon Golf Association's 89th annual Bob Norquist Junior Amateur that starts Monday, June 24, at Oswego Lake Country Club.
For the record, it was a 37-footer on the par 3 No. 17 hole at Trysting Tree Golf Club in Corvallis, and when it fell into the hole for a birdie it gave the Jesuit High School junior a one-stroke lead with one hole to play in the 6A boys state championship last month.
When he holed a short putt for par on No. 18, for a 3-under 68, the title was his by a stroke, the first major victory of his young golfing life.
"It's nice to finally win," he said poignantly, on that day.
But, as for that long putt … maybe Reinhardt's relative nonchalance about the memory reflects the fact when he sank it, he had no idea that it had given him the lead, and when he tapped in on No. 18, he didn't know the importance of that stroke until a playing partner said "Dude, I think you just won state."
So in retrospect, more important than that putt was the decision that Reinhardt made at the turn that day. He knew he was about three or four shots behind leader Nate Stember of Lincoln, who had won the 6A title in 2018, with Reinhardt finishing in a tie for second, four strokes back.
In that moment, the kid who'd never won a big one made the decision to go for it.
"I knew if I could start going lower that I could maybe have a shot at winning," he said.
Four down with eight holes left, Reinhardt chipped in for birdie on No. 11, while elsewhere on the course, Stember, who had teed off an hour earlier and played the back nine first, was giving a stroke back with a bogey on No 8, his penultimate hole.
A 6-foot birdie putt on the par 3 No. 13 hole got Reinhardt within one, and a 13-foot birdie putt on the par 4 No. 15 gave him a share of the lead. After a par on No. 16, Reinhardt arrived at that uphill putt from the bottom of a two-tiered green on No. 17 and, well, you already know the rest of it.
And, again in retrospect, Reinhardt's decision to go for it, to "start going lower," hadn't simply been made that day, but earlier in the school year, when he committed significantly more time to his workouts at SKOUTgolf in Tigard.
Liberated by a driver's license — he'd turned 16 last August — and wheels, Reinhardt started going to the golf academy's training facility before school on Tuesday mornings, when Jesuit had a later start, and in the evenings after golf practice, working on strength and conditioning until 8 p.m. before going home for school work.
"He's become the gold standard for what it looks like to work hard," said his father, Konrad Reinhardt, a teacher at Jesuit who played collegiately at Regis University in Denver and has been the assistant girls coach at Jesuit for 14 years.
"Andrew has been working very, very diligently on his game. He's taken ownership of it."
At 6-foot-1, Andrew Reinhardt hits drives 300 yards on the fly, and he's a thoughtful player, devoting practice rounds to working on shots he figures he'll face in the tournament itself.
"This past high school season, even before state happened, I saw my game improve a lot," he said. "Even when I struggled, I was able to put up a good number. So I slowly saw myself improving, even when I don't have my best game."
He started hitting golf balls when he was 2. When Andrew outgrew his junior clubs, Konrad and Renee Reinhardt refused to buy him a new set until he changed his grip from 10-finger to interlocking.
In the spring of his seventh-grade year, when Andrew decided he wanted to play more competitively, the Reinhardts enrolled him in newly created SKOUTgolf, an academy-like environment for young golfers where coaching is constantly available in an indoor facility with nets and high-tech swing analysis, and where the curriculum ranges from golf instruction to fitness training.
"When he joined, he couldn't break 100 from the forward tees," recalled owner and coach Sebastian Martinez, who established the business to develop goal-oriented junior golfers in a competitive yet community-like environment.
"We played this course where the first hole had out-of-bounds left, and out-of-bounds right, and he would go out-of-bounds left, and then out-of-bounds right."
As a freshman, at powerhouse Jesuit, Reinhardt couldn't make varsity, but his shots were getting straighter, his game improving impressively. By the end of his sophomore year, he was competing for the 6A state championship, with that runner-up finish, and this year he won, as Jesuit won the state title for the third straight year.
"He's started breaking into the 60s," Martinez said, noting the impressive distances that Reinhardt gets with driver and with irons. "He's probably one of my most improved guys."
For Reinhardt, Martinez is more than a swing coach, "he's my everything coach. He helps me with swing, my putting and makes the workouts I do."
Reinhardt's goal is to play college golf, and then the PGA Tour, which makes this a significant summer of competition, to improve his game enough to attract Division I recruiting interest leading into his senior year.
"Right now, we're enjoying the journey," Konrad Reinhardt said. "He wants to go to the place that's going to help him continue to grow, because his dream is to be on the Tour. The school that wants him and will help him to get to that level is where he wants to go."
As they watch Andrew pursue his passion, Konrad Reinhardt said he and Renee, a project manager at Oregon Health Sciences University, generally do so from a vantage point 200 yards down the fairway — in essence, being there while not being in the way.
"There are some dads, when the kid hits the ball and turns and looks at the dad, and the dad's reaction determines whether it was a good or bad shot," Konrad Reinhardt said.
"It's his game, he's got to do that. Any parent who thinks they can adjust their son's game in the course of a game is not giving him a chance to fail and learn."
The boys field in the Junior Amateur, typically highly competitive, includes one of Andrew's best friends, senior-to-be Mateo Fuenmayor of Mountainside High School, who recently shot 13-under to win the Centennial Junior Championship.
"I think it's always a great event," Reinhardt said. "It's one of the few events we do that has a stroke play and a match play part, and I love match play. You can forget the last hole a little bit and focus on the next hole, and if you happen to make a big number you're only going to lose the hole by 1, you're not going to lose the hole by 4."
Reinhardt's best finish in the Junior Amateur came two years ago, when he reached the semifinals at Bandon Dunes. His game is in a different place now.
"I want to play the best golf I can play and see what happens from there," he said. "It would be really nice to win, but if I'm able to get as close as I can with the game I have, that would still be pretty fun."
A version of this story originally appeared on the Oregon Golf Association web site in June 2019.
---
Tags …