Bandon Crossings: At 10 years old, a gem on the Oregon Coast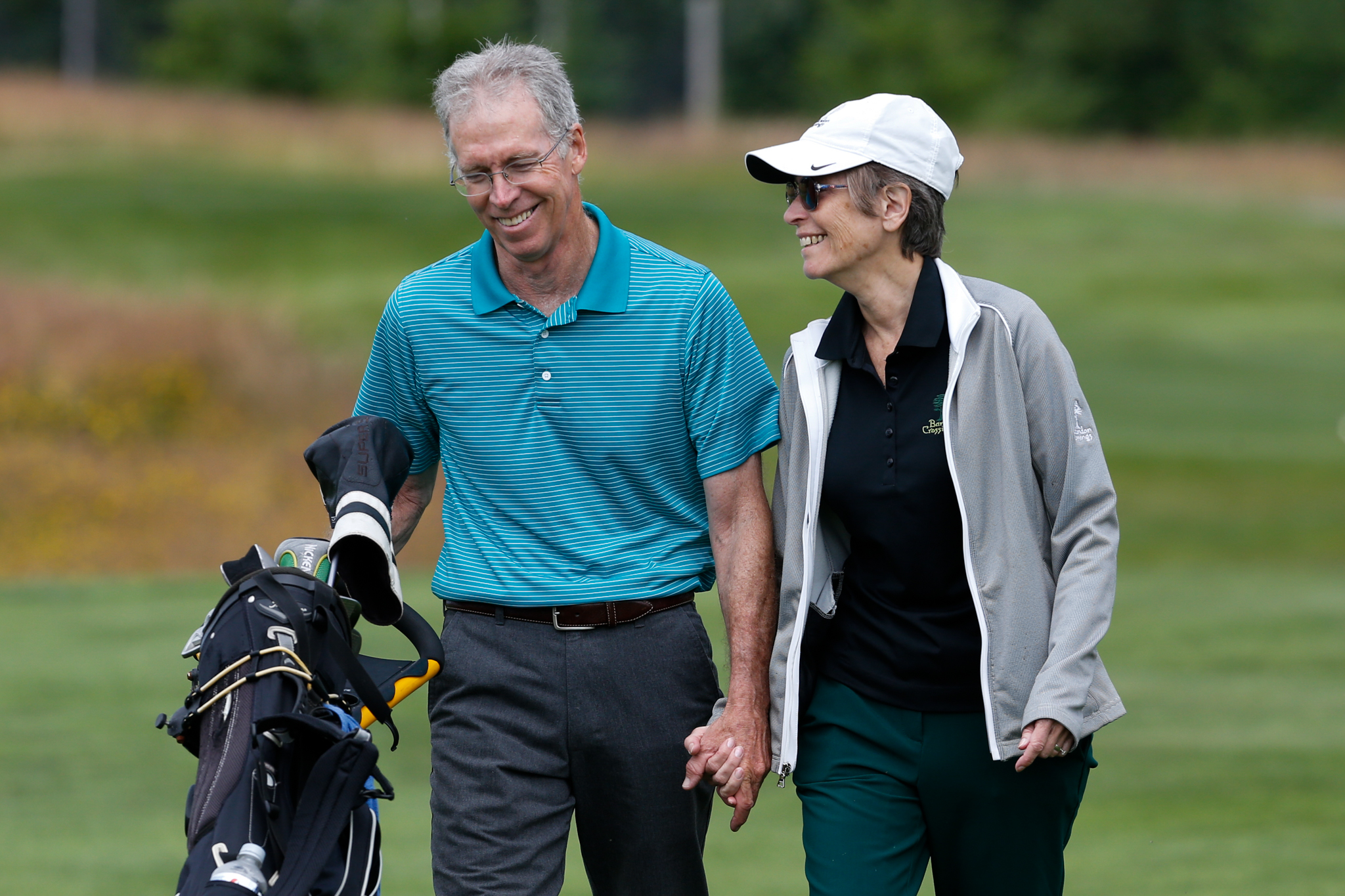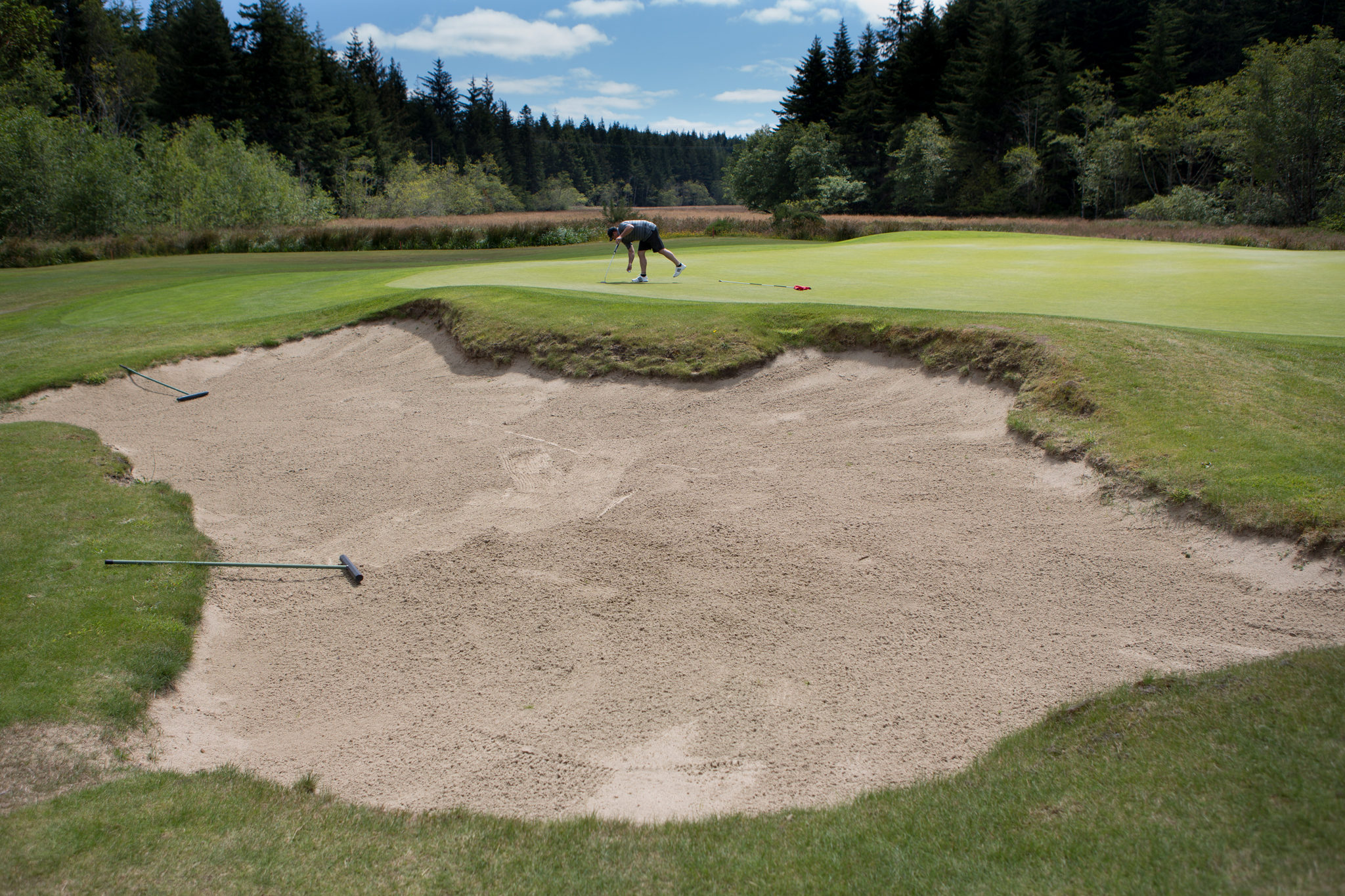 Eugene owners Rex and Carla Smith learned lessons and made some good decisions along the way
BANDON — Ten years ago this month, Eugene residents Rex and Carla Smith opened Bandon Crossings Golf Course just south of here on the site of a cattle and sheep ranch a mile from the Pacific Ocean.
Nothing in their backgrounds prepared them for the venture. He is a podiatrist, a golf lover who walks the course and plays to a 16 handicap. "As it turns out you don't have to be a good golfer to own a golf course," said Carla, a former computer programmer who is at most a social golfer.
They thought they would make money, and they haven't, but they say the course breaks even, not counting their initial investment, which they don't disclose. They dramatically overestimated the spillover traffic they would get from world-famous Bandon Dunes Golf Resort north of town.
"We really thought it was going to be a good economic venture," Rex Smith said. "We were wrong about that part."
The plan had been for Rex to retire relatively soon after the opening and run the golf course.
"Then once we got into the golf course," Carla said, "we realized we can't retire because we're running a golf course."
Yet the adage about novices — they didn't know how much they didn't know — doesn't apply here, because the Smiths knew much of what they didn't know, and a decade later that knowledge led to decisions that have produced a high-quality golf course that is an under-played treasure.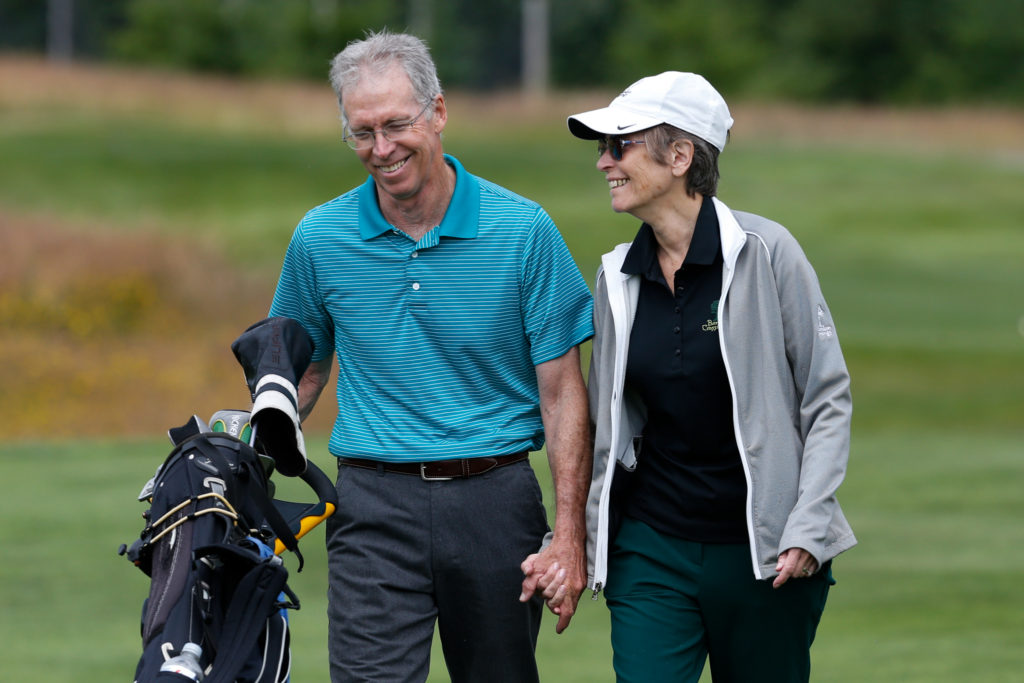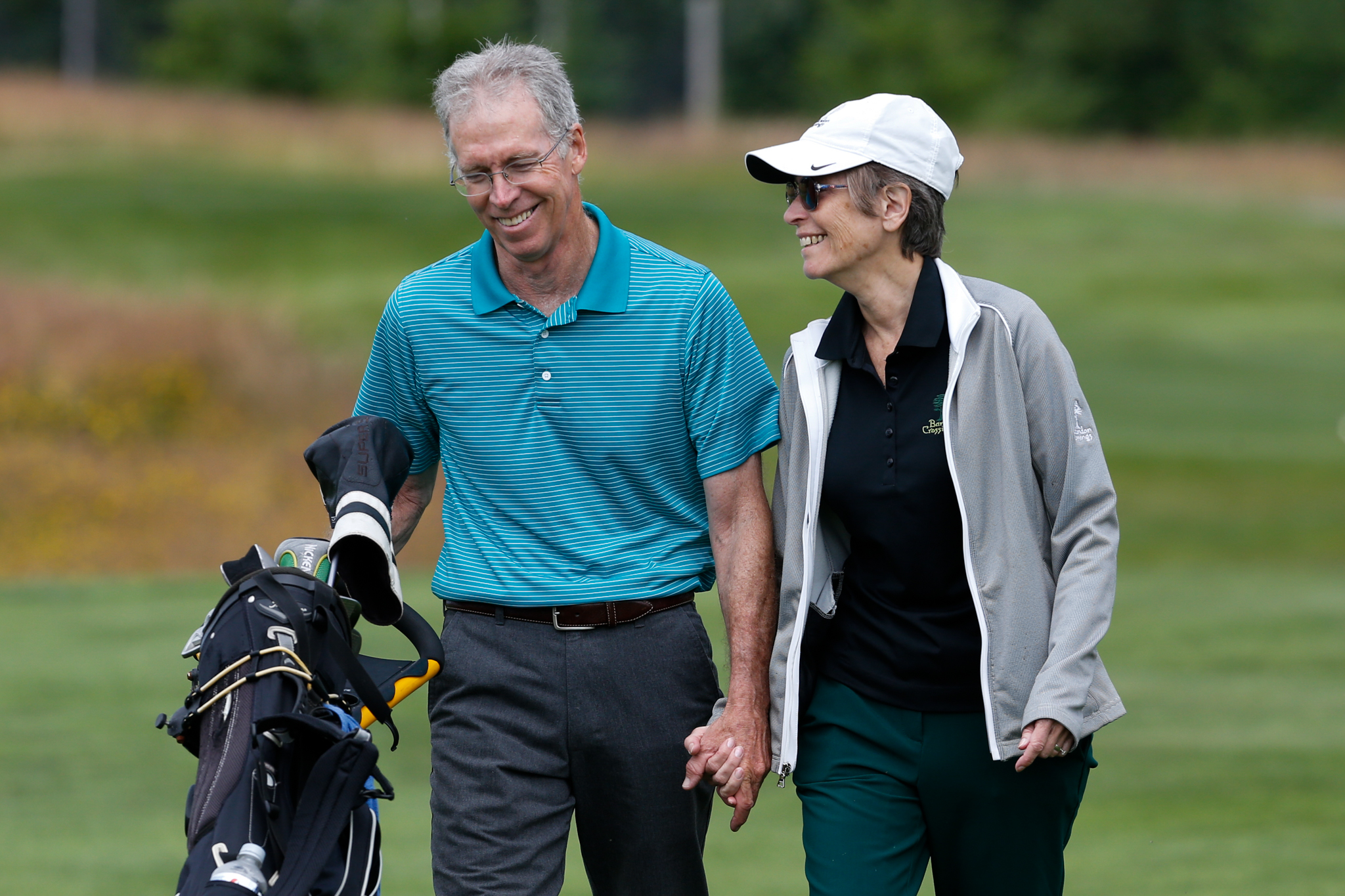 They knew they would need a skilled superintendent to maintain the course, hired Brant Hathorn before the first shovel was turned and have relied on him tremendously. They knew they would need a PGA professional to outfit and run the pro shop and hired one immediately: Current pro Jim Wakeman has worked there almost eight years.
And they knew they would need to find a golf course architect they could afford on a modest budget, and who would share their vision for a property with varying terrain, hills and slopes — a property with special "movement," as Rex Smith put it — and build a course the quality of Sandpines in Florence, an award-winning standard that was a vital part of their dream.
They found Dan Hixson, the former Cottage Grove resident whose father Harvey was the longtime pro at Hidden Valley Golf Course.
They'd interviewed some architects, but had not felt the right fit. Hixson had done some smaller projects and designed improvements for existing 18-hole courses but had yet to launch his own signature 18-hole design. The Smiths and Hixson drove from Eugene one day, walked the 340-acre property, which was criss-crossed with barbed-wire fences, and reached agreement on the ride home.
Hixson spent about 200 days on the site, putting himself on the map along with Bandon Crossings; his design for Wine Valley Golf Club in Walla Walla, Wash., is highly acclaimed, and his much-anticipated design of Silvies Valley Ranch in Central Oregon opens this month. The Smiths found a star before he became a star.
"He put his heart into it," Carla Smith said, "and he could see holes that we couldn't see."
Ten years later, the result is a lovely heathland course — a course that is near the ocean and built on a sand base, as are links courses, but is not directly on the sea, and with ryegrass and bentgrass (morphing into poa annua) rather than fescue. The course drains well in the winter, is relatively sheltered from the ocean winds and allows for cart-riding, which Bandon Dunes doesn't. The Smiths are proud of Bandon Crossings, which brings up the ultimate challenge: How to convince more people to make the drive — from Eugene, about 2 hours and 45 minutes — to play it.
Vision becomes reality
In the fall, Rex, 66, will retire from his medical practice, and he and Carla, 65, plan to spend even more time at Bandon Crossings. They have a small apartment in a stay-and-play house on the course, and own several rental houses in Bandon.
Eugene residents since 1981, the Smiths have not been absentee owners. Virtually every Friday for the past 10 years, after Rex's workday, they've made the 150-mile trip to spend the weekend at Bandon Crossings.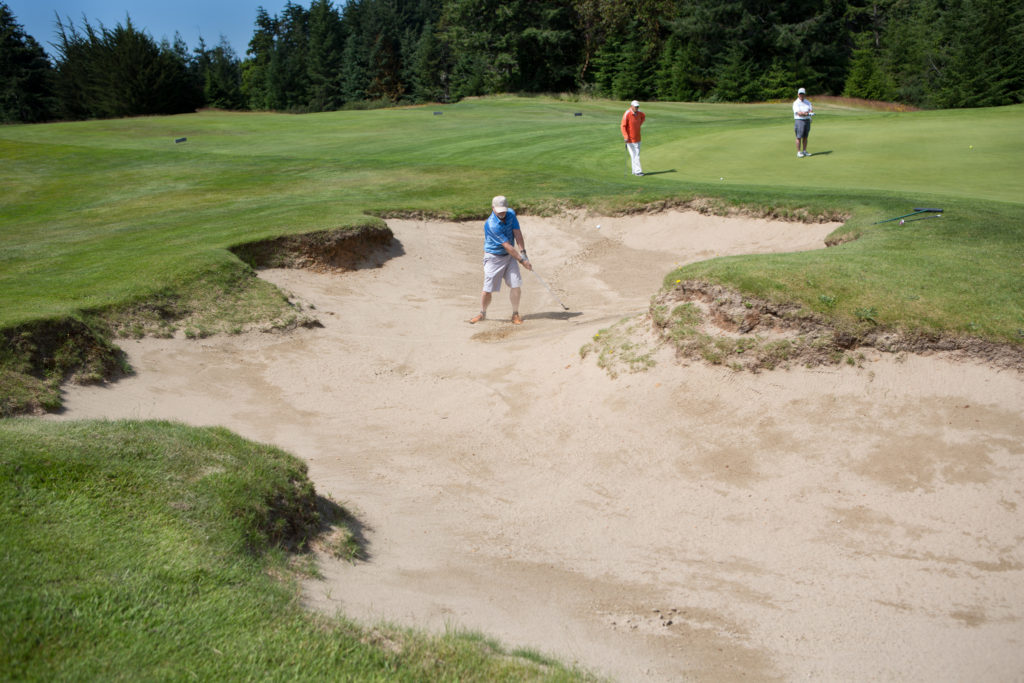 It was Rex, with a tractor, who had discovered that under that pastureland there was sand, vital to the course's winter drainage, and they purchased enough property that they could create an out-of-sight sand mine and produce enough sand for regular top-dressing of fairways.
And it was Carla who had guided the project, relatively seamlessly, through the permitting process that involved Coos County and state and federal agencies, and the required construction of wetlands, a requirement that Bandon Crossings far exceeded. She now serves as general manager, unsalaried, one of the factors in the course's breaking even.
When the course was built, Bandon Dunes had three 18-hole courses; it now has four. The Smiths figured that if they built a good golf course and charged a reasonable price — originally $75 in high season, now $84 — they would attract about 6 percent of Bandon Dunes' clientele and be financially successful.
"We vastly overestimated what we would get," Rex Smith said, putting the figure at roughly 2 percent.
At Bandon Dunes, with its world-class reputation, golfers tend to book rounds and lodging well in advance and stay on the property. They might hear good reviews of Bandon Crossings — the Smiths estimate that 20 to 25 percent of their steady customers are Bandon Dunes caddies and other employees — but don't have the time to play it. If they hear about it at all.
But the Smiths also know that without Bandon Dunes to pull golfers to that part of the coast there would be no Bandon Crossings.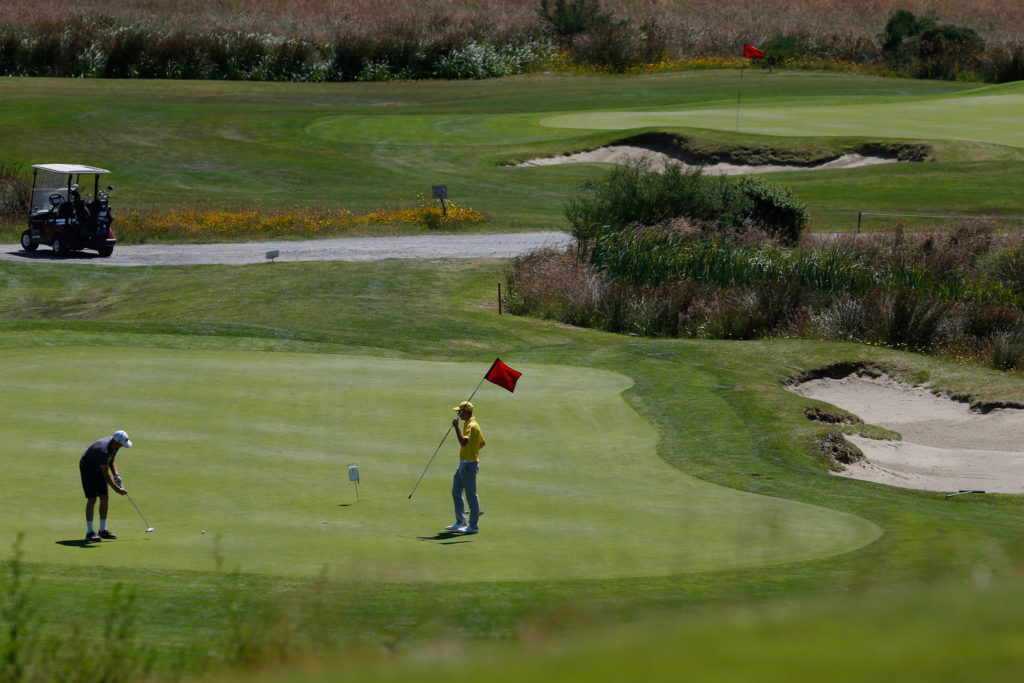 "Bandon Dunes is not our enemy," Rex Smith said. "They're the only reason we exist."
Last summer, the Smiths finally met Bandon Dunes owner Mike Keiser, playing 18 holes with him at their course, and then 18 holes at his property, a delightful time featuring an ongoing match that Keiser won for his side with a 35-foot putt on the final hole.
Seeking more golfers
When Hixson designed the course, which plays to a par 72 and 5,780 yards from the white tees, Rex Smith had certain goals in mind.
"I wanted it to play well for everybody," he said. "My mantra has always been that I want it to be easy for the bad golfers and hard for the good golfers. We have some forced carries but the (fairway) bunkers are intended for longer hitters. We tried to avoid anything that we didn't have to that fouls up the double-bogey golfer.
"I think the golfer's experience is good. I think it's very good."
Bob Johnson, a retired real estate broker who assisted Keiser in purchasing the land for Bandon Dunes — you'll find him mentioned in the pages of "Dream Golf," the book about the making of the resort — said during a recent round at Bandon Crossings that the course fills "an unbelievable role in the golf industry" on that part of the coast, offering a high-standards golf option for golfers who can't afford the rates at Bandon Dunes.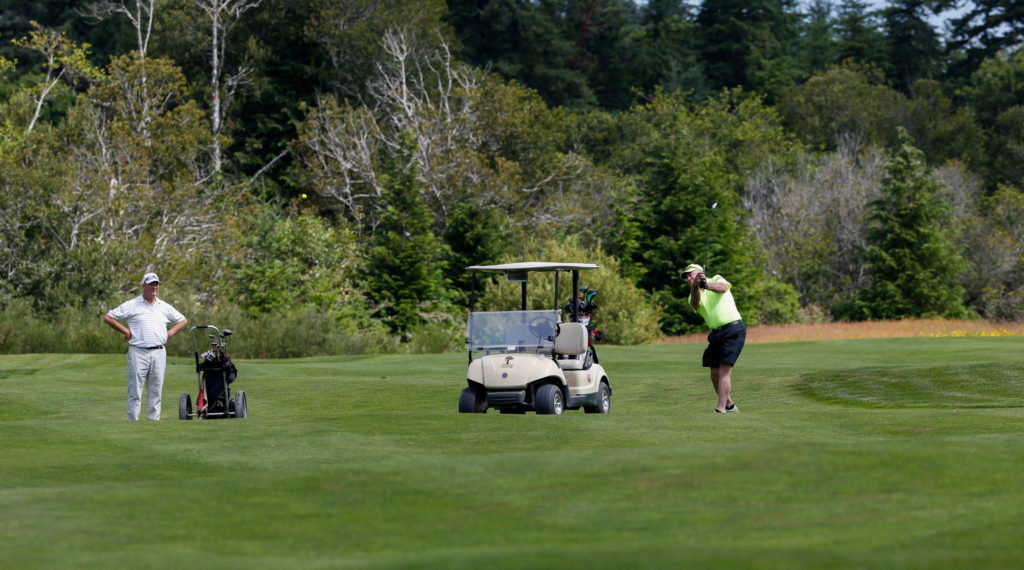 The Smiths said they have continually reinvested potential profits into maintenance, and this month are breaking ground on their first major facility improvement since opening — construction of an L-shaped 5,000-square-foot clubhouse/events building near the first tee. The south-facing building — for golf events, weddings and other meetings — will overlook the course, and the design will shield a patio from the prevailing summer wind that blows from the north.
Bandon Crossings attracts just over 18,000 rounds of golf annually, offering various annual passes and stay-and-play packages and drawing more out-of-area customers from Medford and Roseburg than Eugene, where golfers have coastal options at Sandpines and Ocean Dunes. Which leads Carla Smith to muse about the most difficult aspect of owning a golf course: "Marketing. It's an elusive 'what do you do?' I would love to have the problem of pace-of-play. I would love to have the problem of being too busy. We're not alone in that. But that's my biggest challenge."
It's a challenge the Smiths continue to embrace.
"If we were scrambling and going backward every day, it would just be too stressful," Rex Smith said. "But we're not. We get by. …
"Walking the course and thinking, 'I get a chance to be steward over this land for whatever time I live here,' is an incredibly moving experience. There are moments when you think, 'Holy cow, how does it get any better than this?' And of course when you have a really dead day on a Saturday you think, 'Wow, did we make a mistake here?'"
Said Carla Smith: "We had always expected that we would not give up." Added Rex Smith: "And we expected that we would be successful. Success comes in different packages. At this point, we've lowered our expectations for money, but I'm still strict about the golf course. … We might have made a profit if we had not plowed everything back into the golf course. But it means too much to us."
Originally published Eugene Register-Guard on July 18, 2017.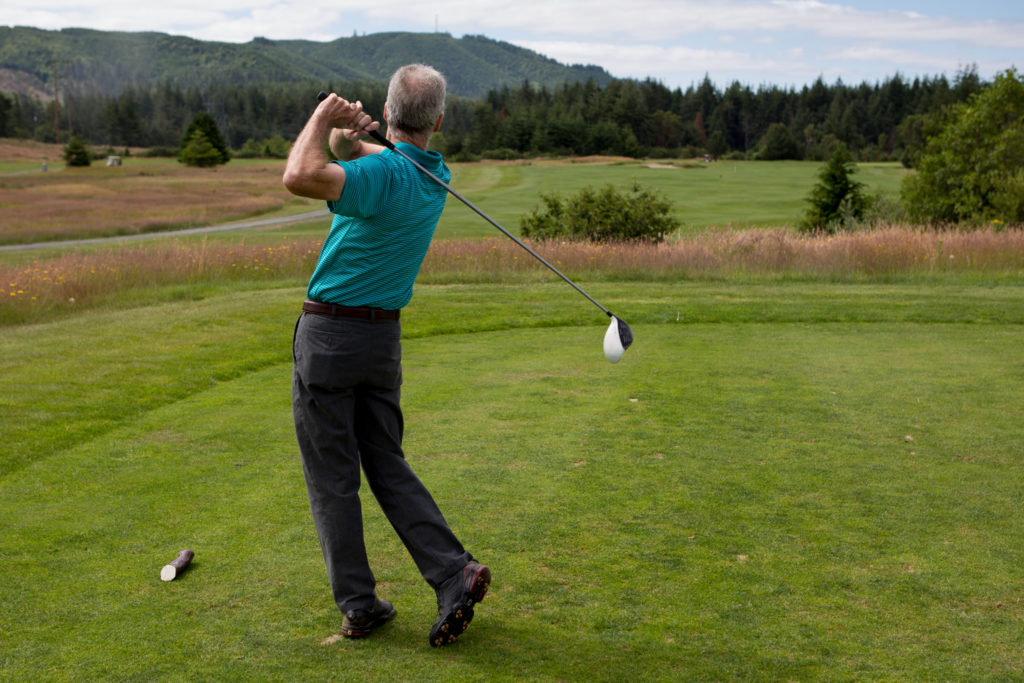 ---
Tags …