Grant Rogers: Bandon's favorite teacher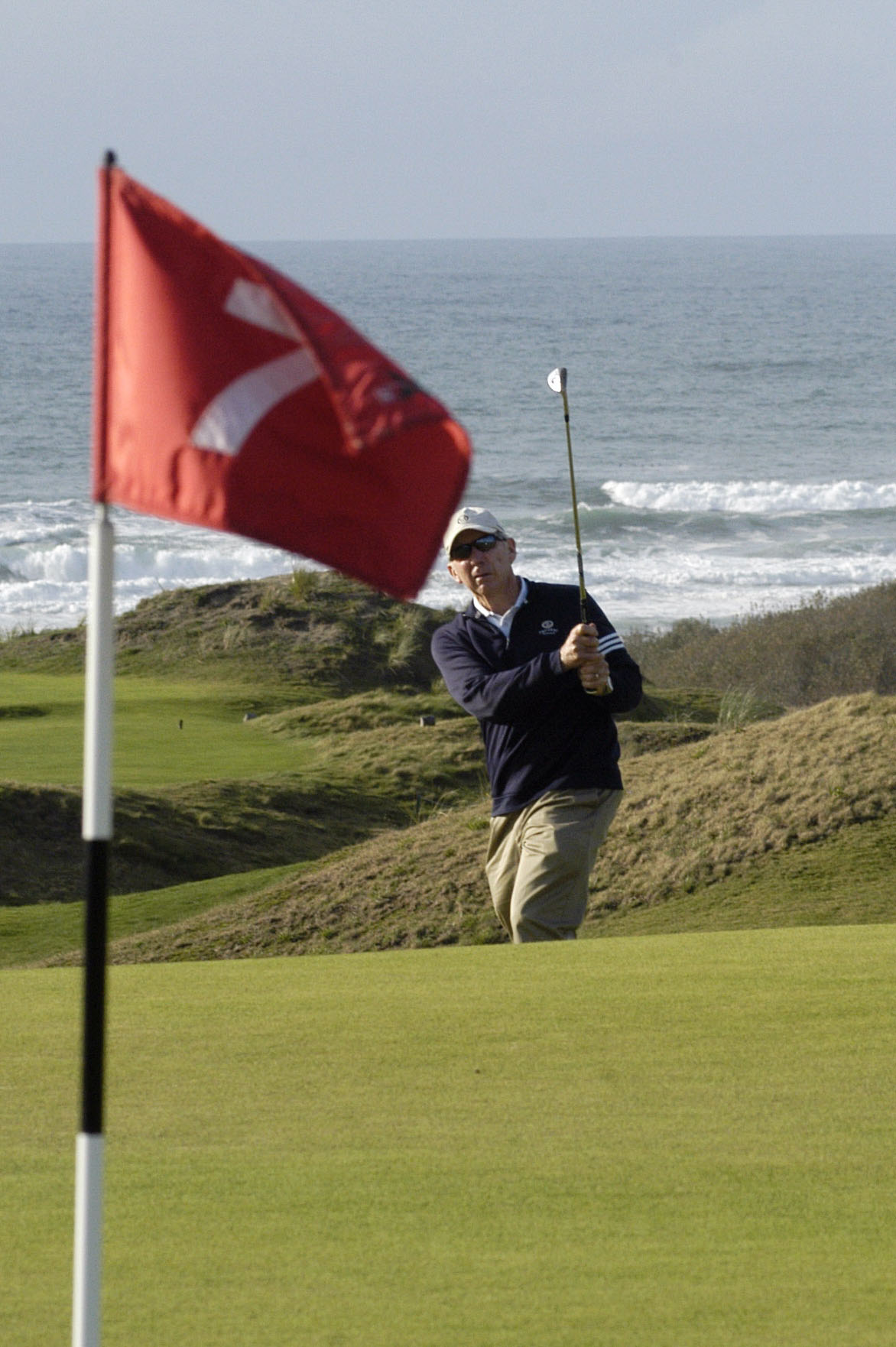 Director of instruction Grant Rogers provides his clients with lasting lessons
BANDON — It is a quirk of Grant Rogers, the director of instruction at Bandon Dunes Golf Resort, that he won't tell you how old he is, nor even provide a few clues, though in the Internet age, that notion seems as quaint as playing golf with a hickory-shafted mashie niblick.
Not that he couldn't, and play very well, hitting every kind of shot you could imagine, and some even he hasn't thought of yet, though this is a guy who can hit a flop shot from an uphill lie back over his head, on purpose, so he's thought of a lot of shots.
But he will offer a vision of how old he would like to be.
"I want to be 150 years old," he said. "I want to be carrying my own bag, I want it to be a links-style golf course, I want it to be dark, I want it to be raining and really windy, and I want to be the last person on the golf course.
"And I want two people in the lodge to see this shadowy figure out there, and one of them says to the other, 'See that old guy out there? Don't play him for money.'"
There's an element of reality in that story. New employees at Bandon Dunes, especially young hot-shot golfers, are warned that they will play Rogers for money at their own risk, and there are great stories about Rogers and matches, some with stakes as simple as a root beer float, some involving putters — he carries two in his bag, always — used from 150 yards out, or off the tee, or drivers used on par 3s into the wind.
Once a businessman boastfully offered Rogers a substantial sum — he won't say how much — if he could sink, in one shot with a wedge, a ball into the farthest hole at the acre-sized practice green at Bandon Dunes.
"As it got close to the hole I remember him saying 'Oh my God,' and then it went right in," Rogers said. "I still have the check. It was written a long time ago. I never intended to cash it. It's fun to look at it every now and then. There were a few zeroes, definitely."
But there's a certain mystical quality, too, in this image of the old guy on the golf course on a stormy night, and fitting enough, because Rogers has been compared with Shivas Irons, the mysterious golf teacher in "Golf in the Kingdom," and has been called a Yoda, and a guru, and a wizard, and a Zen master.
"Well, maybe I am," he said, laughing hard. "I mean, they're not liars."
His lessons — and at times he will work as much as 70 hours a week — are a combination of keen technical advice, homespun sports psychology and almost spiritual golfing parables. Consider this story from Erik Peterson, Bandon Dunes' director of communications who met Rogers while reporting for the Golf Channel.
"I asked him which is the hardest hole at Bandon Dunes, the whole resort," Peterson said. "Without even skipping a beat he said, 'Erik, whichever hole you think is the hardest.' … What he meant is that if you stand on a tee and you say to yourself this is the hardest hole, it's going to be the hardest hole."
Rogers is an ex-Marine who took a boxing class in college and spent six years earning a black belt in taekwando, in part to experience what it was like to learn something difficult, requiring great patience, so that he could identify better with his golf students.
He is a true believer in links golf, and the special place that Bandon Dunes has become, making him an unofficial ambassador for Bandon Dunes, the ideal choice for a round with guests as important as David Fay, when he was executive director of the U.S. Golf Association, or simply a couple of golf writers from a newspaper.
"I enjoy introducing people to Bandon Dunes, and showing them some secret power spots out there, occasionally," he said. "There are some secret places, powerful areas of the golf course, certain tees that are sort of special. Maybe showing them how to sink a putt they didn't think they could sink."
That's Grant Rogers, The Most Interesting Teacher in Golf.
The putter in the tree
Rogers was born in Norfolk, Va.; his father, Grant, was a Navy flier, an aircraft carrier pilot, and the family moved 26 times in Rogers' early childhood. At multiple places, his mother, Betty, a golfer herself, sunk tin cans into their back yard, gave him a cut-down club and watched from the kitchen window as he made shots.
"Sometimes I have the feeling that I can't remember anything before my first golf thought," he said.
When Rogers was in grade school, the family settled in Los Gatos, Calif., and his father operated a tile company. Rogers was a juniors golfer, and later a high school star.
"I did have a temper," he recalled. "I remember getting upset one time as a junior golfer. I threw my putter, and it landed in a tree. It stayed in the tree the whole summer. It was up there, and there was no way to get it down. Every time I played the hole I looked up and waved at it.
"After that, I calmed down a little bit."
On Saturdays, Rogers had the choices of swimming — he would go on to play varsity water polo at San Jose State, where he double-majored in philosophy and psychology — or playing tennis or golf, except that if he complained about anything he had to spend the next Saturday at his father's tile company, loading heavy bricks into an oven and then unloading them. The lesson learned?
"Complaining about a golf shot is probably not worth it, realistically," he said.
After college, he joined the Marines, seeing it as an adventure; he spent his tour of duty stateside. "I enjoyed most of it," is how he puts it. "I enjoyed the training."
His first golf job was as an assistant pro at Pasatiempo, the famed California course designed by Alister MacKenzie, who designed Augusta National and Cypress Point. From the ranks of assistants, he was chosen by the head pro to give lessons.
"He said 'If you make anybody worse, I'll get another one,'" Rogers recalled. "That became my teaching mantra."
He moved on to Salishan, on the Oregon Coast, where he had a long run as the head pro. One day, in the late 1990s, he got a call from a fellow pro at Cypress Point, wondering about the supposedly world-class course being built in Oregon. That was Bandon Dunes, and when Rogers drove down to see it, they were working on the fifth hole, now the No. 1 handicap hole, a par 4 running north along the Pacific Ocean.
"When I saw that hole I thought this is going to be an unbelievable golf course," Rogers said.
By then, he'd made numerous trips to Europe, to play the Old Course at St. Andrews and the other old courses there, and had fallen in love with links golf, played on the shores, where the wind and rain are part of the challenge. Bandon Dunes opened in 1999, and in 2000 Rogers was hired to be its top teacher, moving to Bandon with his wife, Janet, and daughter, Jana, now a graphic designer in Bend and a prominent ski instructor at Mount Bachelor. On his first day, he asked his boss, Tim Hval, for a job description; Hval scrawled something on a piece of paper, which he folded and handed to Rogers.
"I opened it up and it said 'just be nice to the people,'" Rogers said.
'Have a lot of fun'
In his 15th year at Bandon Dunes, Rogers has developed a loyal following while remaining somewhat under the radar.
"I'm on a secret Golf Channel," he quipped. "If you turn your TV on and I'm not there, it means you have to see me in person."
In a place where a fair portion of the clientele has money and stature, Rogers is unflinchingly his own person, quietly sure of himself and his approach, and with more than enough game to hold his own.
"There would be no better fit for a guy like Grant Rogers than a place like Bandon Dunes," said Matt Ginella, travel reporter for the Golf Channel. "This is a guy who thinks about the game, and the journey that is the round of golf, and the soul of the game in just a different way …
"If anybody spends time with Grant Rogers talking about the game, or their game, they leave a better person because of it."
Sometimes, Rogers gives emergency lessons — a golfer comes to Bandon Dunes, and loses his swing in the wind and on the fescue.
"I've had people have marshals bring them from the course to the practice center," he said. "It's like they were wounded, and I patch them up and send them back to the battlefield."
More typical are scheduled lessons ($50 for half an hour, $90 for an hour and $150 plus greens fees for a nine-hole playing lesson, among other options), built around Rogers' fundamental teaching belief — that anyone can get better at golf, and should have fun doing it.
"Often you find golf professionals who are happy to teach, but they're also clock watchers," said Jeff Simonds, Bandon Dunes' director of golf. "Grant is the kind of guy that the lesson is over when he feels it over. It's about making someone become a better golfer.
"He's probably one of the greatest persons I've met for golf, on how it fits into life, and how he keeps the game in perspective."
Rogers consistently emphasizes the positive — he instructed one golfer to talk about his favorite shot on each hole while walking to the next, with the caveat being that on even the worst holes, there had to be a favorite shot. He told another pupil, interested in better putting, to make 10,000 putts, inspired by advice he got in a skiing lesson, that he needed to ski more vertical feet, in more challenging conditions, to improve.
The gospel according to Grant:
* "The hole wants to win, too. It's a game, and you can't win every time, and that's what's challenging about golf. What's cool about Bandon Dunes is that you have 85 holes here that are designed to win."
* "I'm convinced people can be better golfers. I don't see anything that they're doing as a permanent problem. I like to encourage people to keep doing this, and to have a lot of fun along the way. Don't wait until you're good to have fun. It's pointless."
* "I tell people that somebody in their group is going to be having the most fun, it might as well be them."
Once in a while, Rogers thinks about how long he'll keep teaching. Then he'll look out at the golfers on the practice range, see the assorted swings, golf balls flying hither and yon, and figure that there's still plenty of work to do.
"As long as there are golfers trying to improve, I'm all in," he said. "I want to help them."
---
Tags …