Speedgolf: Eri Crum masters Bandon again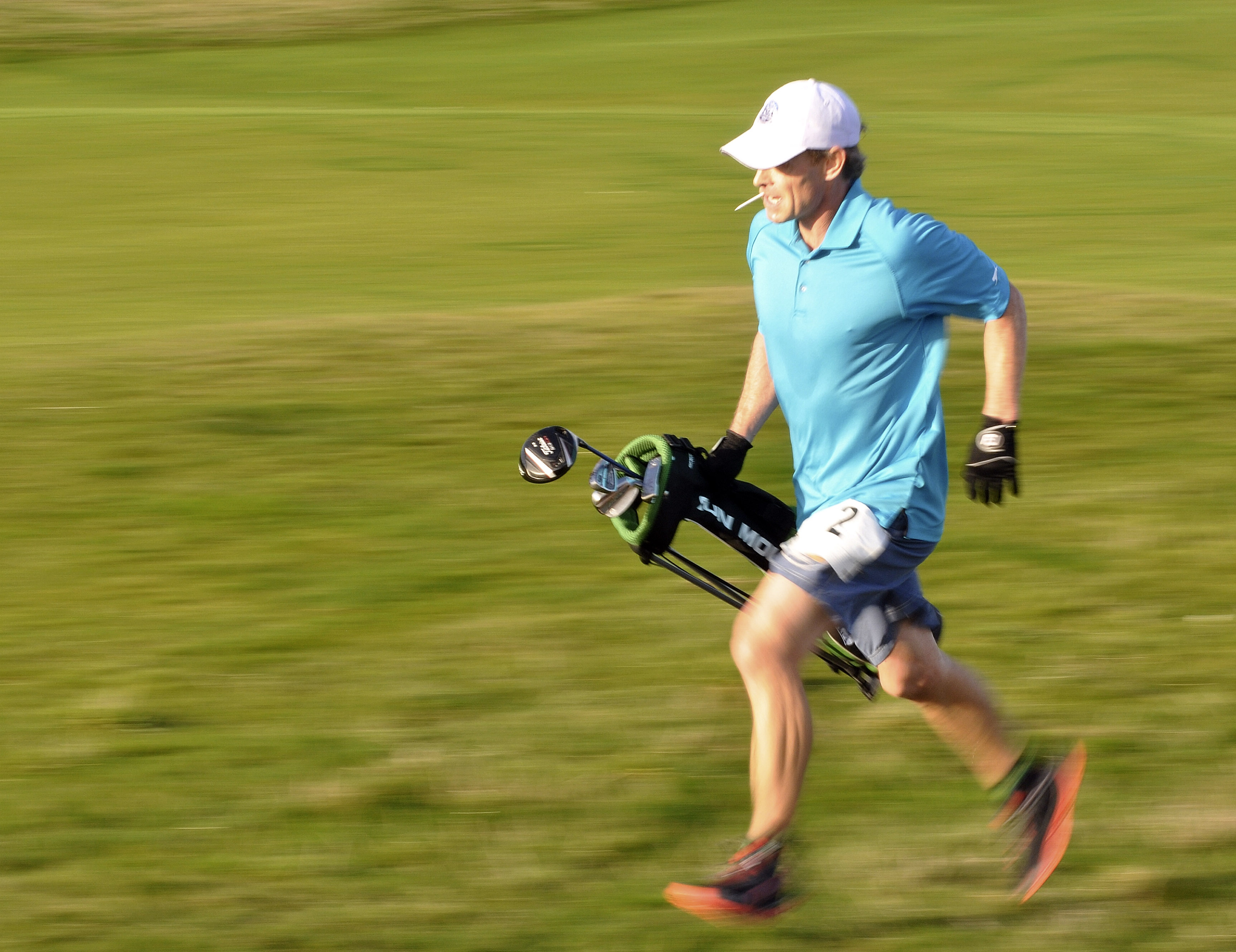 The former Stanford golfer wins world Speedgolf title
BANDON — For the second straight year, Eri Crum played very well on the Bandon Dunes course at the Speedgolf World Championships at Bandon Dunes Golf Resort.
Sunday, the 39-year-old former Stanford University golf captain shot a 4-over par 76 in 46 minutes, 1 second for a Speedgolf score of 122.01 and his first-ever world title. Crum, who finished second last year when he shot 73 on Bandon Dunes, won by the narrowest of margins — in essence, less than a stroke — over defending world champion Rob Hogan of Ireland, who shot 83 in 39:57 for a score of 122.57.
"You think back on all those putts you made that you could have missed and you just feel grateful," Crum said. "This game is so fickle. A shot here, a shot there, it can go any way at any time. I feel grateful the putts fell today."
Weather Sunday was sunny, until a deluge in late morning, with relatively mild wind. Severe wind, with gusts up to 60 miles an hour, had forced organizers to declare Saturday's first round at Old Macdonald to be an unofficial event, and to pay some prize money to the top seven finishers, led by Nick Willis, the 2008 Olympic silver medalist at 1,500 meters.
That made Speedgolf International's third world championships an 18-hole, one-day event Sunday at Bandon Dunes.
"I think they did everything the right way," said Crum, who earned $10,600 in first-place money. "Someone was going to be unhappy no matter what they decided. This was the right call and the only decision that could have been made. It was brutal conditions Saturday. …
"Once we finished, we realized how hard it was, and that any other golf tournament would have been canceled. You have to reward people who played really well yesterday, but you can't make it an official Speedgolf event. So that was the right thing to do."
Allan Phillips of San Antonio, who finished third Sunday with a score of 123.46, agreed.
"I thought it was a fair resolution, to reward the guys who played better than everyone else, but to make it a legitimate championship today without all the goofiness that was going on out there with the hurricane-force winds," he said.
Crum, a chiropractor who operates a chiropractic and rehabilitation center in Boise, said that during the past year he worked on his speed in track workouts. "Someone like Nick Willis might laugh at my track workouts, but for me they're pretty vigorous," he said. Sunday, he played a nearly flawless round until a double-bogey on the 18th hole.
Hogan suffered a mishap on the fifth hole when the clubhead flew off his 7-iron during a shot, leaving him with five clubs.
"I struggled toward the end," Hogan said. "I played all right, but I lost focus for some reason. That's something to work on. I'm going to come back with laser focus next year. … Over the next couple of years, when the crowd gets bigger, it's going to be more important to block out the noise."
Sunday's best golf score was a 72 by former University of Oregon golfer Tim Hval. And perhaps the most inspiring performance was a 76 by Mark Stockamp, a University of Washington sophomore from Lake Oswego who was the youngest player in the elite field and who wound up fifth, as low amateur, with a score of 124.46.
In the gale-force winds on Old Mac on Saturday, Stockamp had shot a horrific 150.
"Pure agony," Stockamp said. "The wind was blowing me back and forth, I was shanking it everywhere.
"I had a 20 on hole No. 6. I also had an 18, a 13 and a couple of 12s. … I took four unplayable lies in one bunker, so I knew it took me about 10 to get out. If anything, I went a little over. I figured what's the difference between 17 and 20. I didn't want to cheat or anything."
Stockamp said that finishing Saturday's round, in which he lost five balls and hit into "probably 30 bunkers" required "the most willpower I've ever had to have. That was probably one of the hardest things I've ever done in my life."
Stockamp said it was "really hard coming out here (Sunday) and thinking that I could compete well" but he was 1-over through nine holes, didn't lose a golf ball and hit only one bunker, which he escaped for a birdie on No. 16.
---
Tags …