Ellie Slama: For OSU star, golf has been a family passion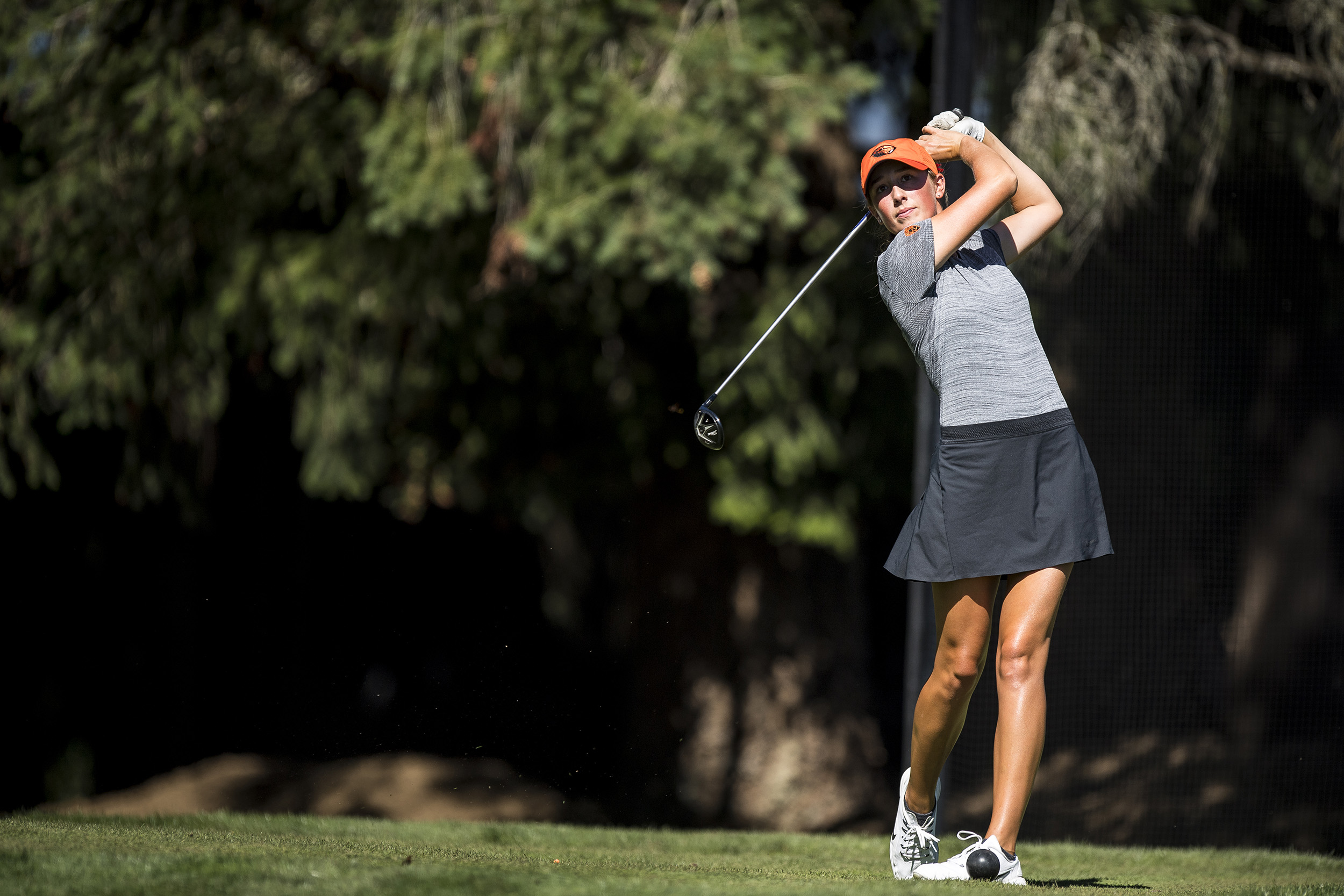 In a year that saw her play Augusta National, she seeks to defend her title in the Oregon Amateur
A year ago, when Salem veterinarian Doug Slama caddied for his daughter, Ellie, in her first-ever Oregon Women's Amateur championship tournament at Bend Country Club, he got some advice from her older brother, Tim.
Because Tim had been Ellie's caddie through many Oregon Golf Association Junior events — parents aren't allowed on the bag — and they'd been a formidable team, Ellie winning OGA titles at the pee wee and intermediate levels before winning Oregon Junior titles in 2015 and 2017 and earning medalist honors in 2016.
"He said, 'Hey Dad, there are going to be four or five shots during a tournament when she's going to want to hit a different club than you, and you should probably just let her hit it," Doug Slama recalled.
"It was the classic 'show up, keep up and shut up.' She calls everything. In the entire Oregon Am I probably helped her on about five shots. Never a read on putting, just maybe club selection. …
"It's fun. She keeps it light. She plays best when she's happy and talking, usually that's with her competitors, but when there are caddies, it's nice to have her brother or myself for her to chitter-chat with."
The Oregon Amateur turned out to be "a fantastic experience," and exciting at that, for father and daughter. Ellie Slama finished third in stroke play qualifying and advanced through the match-play rounds, winning her second-round match in 19 holes, and her quarterfinal match in 22 holes.
Ultimately, Slama won the championship in a riveting 36-hole final with Jessica Young, 2 and 1, defeating the golfer who had ousted the tournament's prohibitive favorite, defending champion and three-time winner Gigi Stoll, in the quarterfinals.
Starting June 17 at the Portland Golf Club, Slama, 20, will seek to defend her title, coming off a strong sophomore season at Oregon State University in which she set multiple school records — first OSU golfer to record seven top 10 finishes in a single season, first selected all-Pac-12 first team, and the best single-season scoring average (72.43) in school history, including a 6-under 66 in the second round of the NCAA Regionals, equaling the lowest score in OSU history.
The field of 48 golfers will include 2016 Oregon Amateur champion Krissy Peterson, University of Oregon golfer Madi Daniel and 2019 Oregon Mid-Amateur champion Gretchen Johnson. The tournament will consist of two rounds of stroke play to cut the field to 32, and single-elimination match play, culminating in the 36-hole final on Saturday, June 22.
Concurrently, the Portland Golf Club will also be the site of the Oregon Men's Amateur (see related story) and the Senior Women's Amateur, in which two-time defending champion Lara Tennant of Portland headlines a field that includes two-time champion Leilani Norman (2013 and 2015) and three-time champion Loree McKay (2007, 2011 and 2014). The Women's Senior Amateur will begin on June 19 and conclude with an 18-hole final on June 22.
"I don't think I feel pressure," Slama said earlier this month. "I would definitely love to go out there and repeat. But it's not something I feel a lot of pressure toward."
This time, brother Tim, just graduated from OSU, will be her caddie, and in other major tournaments this summer, including U.S. Amateur qualifying July 8 at the Home Course in Washington state, and the Canadian Amateur.
By the way, Tim once designed a driver, which he dubbed Roswell, for a reality TV show contest. And by now you've correctly figured that golf is a passion in the Slama (pronounced Slahma) family.
Doug Slama fell in love with the game when he was in middle school, playing after school each day with friends at Salem Golf Club. He played in high school, put the sticks away in college, and before Tim could walk bought him a set of plastic Little Tyke golf clubs.
"He learned to walk using the little plastic clubs," Doug Slama said. "He would watch golf on TV, and would pound against the sliding glass door until you let him outside to hit the little plastic balls."
Soon there was a tin cup in the ground in the back yard and then a hitting net in the garage, and into that setting came Ellie, 2-and-a-half years younger than her brother. She started hitting golf balls when she was 2, and then would go with her Dad and brother to the golf course when she was 5 or 6.
"She didn't have the love that Tim did," Doug Slama said. "She would play a hole and then she would do cartwheels or run around and chase butterflies for a hole."
During summers, Tim Slama was playing OGA Junior events and when Ellie turned 8, their mother, Leilani, explained that this was going to be their lifestyle for the next few summers, and Ellie could keep watching Tim play or play herself in OGA pee wee events.
She played. She was, Doug Slama recalled, generally the smallest kid on the course, paired with another young beginner with older siblings, Jenny Krause of Eugene. Within a few years, Ellie and Jenny, now playing at the University of Nevada, were winning tournaments, a lot, and one year just about everything.
"When I got to 11, I started taking it seriously, and started practicing, and realized that if I put in the practice I could be good," Ellie said. "I think that's when everything shifted, and I started enjoying it more and started loving the game."
About the time she was 12, Slama took lessons from Al Cross, the highly respected former longtime pro at Illahe Hills Country Club who had opened his own golf schools. Cross, now 88, has been her only swing coach ever since and has become almost another grandfather. Cross lives two blocks from the Slamas in Salem, Ellie has picked blueberries for him at his patch, and brings him a hat from every national tournament in which she plays.
"He's the best swing coach ever," she said. "To this day, he helps me whenever I want. He's fabulous. … He has the best swing I've ever seen."
Said Doug Slama: "Al's absolutely unbelievable. He's on the short list of nicest guys in the world. … They work unbelievably well together. She listens to him probably better than anyone she's been around. If he gives her a lesson, there are probably 10 minutes of instruction, and half hour of just talking and 10 or 15 minutes about when he played golf with Ben Hogan or when he had dinner with Byron Nelson. This guy's a legend."
Clearly, Cross is proud of his pupil, and believes in her.
"Her personality has always been mellow, but very interested," he said. "She was always a hard -working good student. She wanted to improve. She was always willing to make changes. …
"A bad shot didn't bother her. She'd go on knowing the next shot was going to be better. She always had a good attitude.
"When she was in high school, a sophomore, you could see she was ready. She was taking it more seriously and she was getting stronger. She dedicated herself even more, and started playing more golf. She became in love with the game. It was a snowballing effect. The better you are, the more you want to work on it."
And better she was. She was the medalist and match play champion in the Oregon Junior Am in 2015, after her sophomore year at South Salem High School, and again in 2017. She was the medalist and match play champion in the 2016 Pacific Northwest Golf Association Junior Amateur. She was the PNGA and OGA Junior Golfer of the Year in 2015 and 2016. She was a two-time OGA Junior stroke play champion. She was the top American finisher, a tie for seventh, in the 2016 IMG Junior Worlds.
At South Salem— where she was also a four-year member of the swimming team and a two-year cross country runner — Slama won the OSAA 6A title as a junior and senior in 2016 and 2017 and set an OSAA scoring record with a 64.
Then it was on to Oregon State, where she's won twice, and where in addition to the aforementioned firsts in her sophomore season, she played earlier this year in the inaugural Augusta National Women's Amateur championship, which drew the top 72 ranked women's amateur golfers to the Champions Retreat Golf Club in Evans, Ga.
Against the toughest field in her career, on a course that played long and hard, Slama finished tied for 52, with the top 30 advancing to the final round at Augusta National, home of the Masters. However, all participants were invited for a practice round there, and those who hadn't made the cut played it in a regulation setting, in which Slama shot a four-under 68 and which she described as her most fun day in golf, ever.
In her family, Slama had grown up watching the Masters on TV, and knew the spots where Bubba Watson had escaped the woods on No. 10 to win, and where Tiger Woods had drained the chip shot on No. 16 and the line of Phil Mickelson's winning putt on No. 18.
Furthermore, she and her father had been to the Masters in 2015, when she was awarded two tickets given to the OGA annually for junior golfers. She watched all four rounds, and got to meet her favorite golfer, Ricky Fowler.
"I was a huge Ricky Fowler fan, from the time he was a rookie until now," she said. "I absolutely loved his bright colors, and his whole demeanor; he was the nice guy on Tour who was also good at golf. When I went to the Masters, my whole dream was to meet him, and after he was hitting on the range, I think it was the Friday, I was standing in the little autograph area for the kids, and I stood there the entire time he was hitting on the range, and he finally came over and talked to me for 15 minutes … it was really cool, and it made me like him even more."
At OSU, Slama is majoring in kinesiology, with the goal of becoming a physical therapist or athletic trainer. (At times, during rounds, OSU coach Dawn Shockley will carry flashcards and quiz Slama on science facts between shots, such is Slama's ability to talk about virtually anything on the golf course during a round.)
"Professional golf has always been one of my dreams, and I'll definitely give myself a chance to get to that level," she said. "But if it doesn't work out it's not going to be too devastating, because I'll have something else that I love doing."
Al Cross believes Slama will have the potential to play at the next level. Once the smallest kid on the course, she's 5-foot-9 now, and while length is not the strength of her game, Cross sees her adding 10 to 20 yards with the driver in the coming years.
"She's not a power hitter, but her irons game is to be envied," Cross said. She's a great irons player and she's a very consistent player. She doesn't hit a lot of poor shots. Her weakest part is maybe her fairway woods, but at the same time she drives it very consistently. Not real long yet, but she's gaining power. …
"Her short game is really good. Her putting is consistent. It's hard to find holes in her game right now. If you look at tournaments this past year, she's played great rounds."
Slama's talent, Cross said, isn't simply physical. She's a poised, very smart player, and more.
"She's got the character to be able to do that," he said, of her potential as a professional. "She's building the game for it. Right now, those girls out there are so sharp. But she's got the hidden ingredients of determination. She's got a steel way about her in competition."
And that steel gets sharper each season.
A version of this story originally appeared on the Oregon Golf Association web site June 2019.
Oregon Men's Amateur: Defending champ Robbie Ziegler faces another tough field
A year ago, Robbie Ziegler won the Oregon Men's Amateur at Bend Country Club. The then-28-year-old former University of Oregon golfer defeated San Jose State's Bryce Wortman in the semis, and Oregon State's Spencer Tibbits, almost a decade younger, 2-and-1 in the 36-hole championship match.
A surprise? Well, it was to Ziegler, at least, and it was a meaningful victory.
"It's pretty special to win a State Amateur, the state you live and grew up in," Ziegler said recently. "It's a pretty big deal. Honestly, it caught me off guard a little bit. I really didn't expect to win. But I played really well and I kind of carried that into the finals and luckily I capped it off.
"Growing up in the state I have an appreciation for what the OGA does, for junior golfers and older golfers. They do a lot for the state. It's the biggest tournament in the state, so it was pretty special to win the biggest event in the state of Oregon."
Such are the fields for the Oregon Amateur that no champion has repeated since Nick Chianello in 2012-13; there have been five different winners in the last five years. And it's not as if Ziegler will be getting top-flight practice time in the week leading up to this year's tournament, which starts June 17 at Portland Golf Club ; in his role in sports marketing for Adidas Golf, in which he oversees amateur golf, he'll spend the previous week supporting clients at the U.S. Open at Pebble Beach.
"We'll see," he said. "I travel a lot for work. Every tournament is different. Sometimes I come in rusty, and sometimes I'll have a few days leading up to it where I can get a little practice in. I'm going to be at the U.S. Open leading up to this, so I'm not going to be touching a golf club, so it's going to be interesting.
"But I've learned to go with the flow nowadays, it's not worth getting worked up about. But just like last year, hopefully I'll find something. Match play is a different game, just one on one. Hopefully I'll get a little ju-ju going for this year."
The tournament will consist of two rounds of stroke play qualifying to cut the field to 64, and single-elimination match play culminating with the 36-hole championship match on Saturday, June 22.
The field will include Tibbits, of Vancouver, Wash., who just completed his sophomore year at OSU, and who is playing this week as an amateur in the U.S. Open.
Other top competitors include University of Oregon golfer Craig Ronne, the 2017 Oregon Juniors champion who was a strong contender in the Oregon Am and Oregon Stroke Play tournaments last year, as well as former Oregon Am winner Jack Dukeminier (2011), former OGA Public Links champion Calvin Green (2016) and the 2018 Oregon Juniors champion, Nate Stember.
"It's a great mix of players," Ziegler said. "Obviously, you get some of the Ducks and Beavers, the current college players. Those guys are always a tough out because they're playing all year.
"And a lot of guys my age, who I grew up with in Junior golf, most of them are playing as well. So it's a good mix of young, current college players, high-end junior players and the mid-amateurs who are very capable of making a run as well.
"It's a great slate of different type of players."
A version of this story originally appeared on the Oregon Golf Association web site June 2019.
---
Tags …