Ireland, revisited: A golfer's travels and travails, and lifetime memories …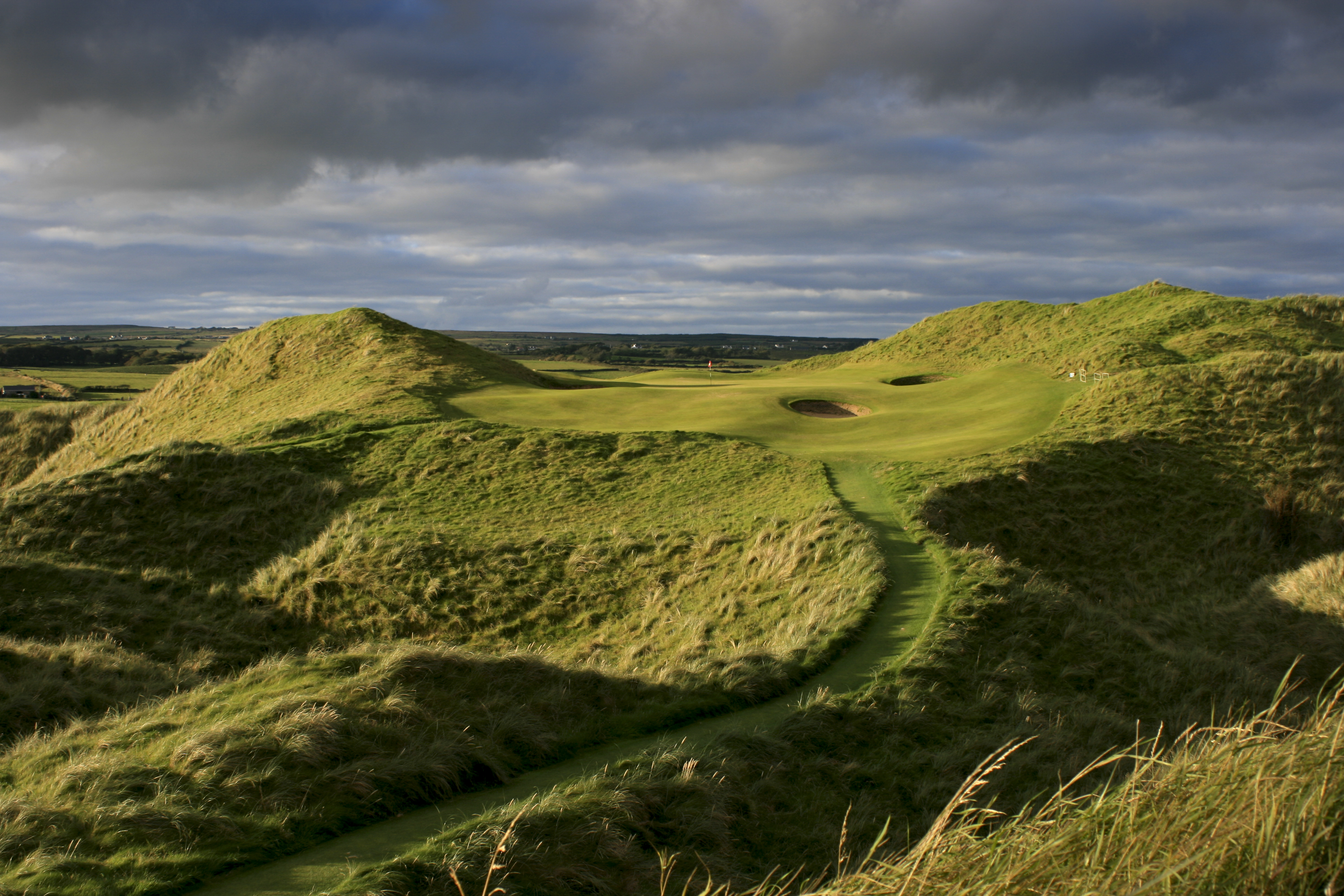 Even for a 19-handicapper ….
KILLARNEY, Ireland — Wedged in a middle seat as our night flight from Philadelphia finally cleared the Atlantic Ocean and began descending over Ireland toward Shannon Airport in the early morning, I began a conversation with the guy by the window.
Like me, he was going to Ireland on a golfing trip, to play such famous links courses as Ballybunion, Lahinch and Waterville. He was wearing a sweater from Spyglass in California, and our conversation established that he was a scratch golfer who had played in USGA Mid-Amateur championships.
"What's your number?" he asked, inquiring about my handicap.
"Nineteen," I answered, meaning that on a good day I might creep into the high 80s, and typically I'm somewhere in the 90s, if things don't get worse, and they can.
He didn't respond, just gave a look that said "OK. Well, now. Good luck with that."
A few hours later, on the third hole at Lahinch Golf Links, a course in southwest Ireland on the shore of Liscannor Bay of the Atlantic Ocean that traces its original design to Old Tom Morris in 1894 and that was updated by Alister MacKenzie in the 1920s and again by Martin Hawtree in this century, I saw what he meant.
I'd hit my drive into deep rough on the side of a steep dune. You know that golf shot where you have to hit a ball that's chest-high as you stand below it in shin-high dune grass?
I don't have that shot.
And so it went in the early rounds in Ireland. On the second day, on the par-5 fourth hole at Ballybunion Golf Links, I met a longtime club member, the distinguished Mr. Brendan O'Neill. This was because my drive had faded high and right in a steady wind, the ball flying out of bounds, over the narrow roadway — in Ireland, most every roadway is narrow — and landing on the roof of Mr. O'Neill's car.
While it was parked in his driveway. While he was standing beside it.
We had a very cordial conversation, which consisted of me apologizing and Mr. O'Neill urging me to not let it ruin my round. We parted company, and I was about to play another shot when he called me back.
 And returned my golf ball.
Which was a good thing, because the next day, at Tralee Golf Links, a course designed by Arnold Palmer, bordering the ocean, with spectacular views and deep rough, I lost eight golf balls, five on the front nine. Well, two weren't exactly lost, in that I knew where they were, and that was out in the water. Fortunately between the ninth and 10th holes we passed the parking lot, where I made a quick stop at our van to get two more sleeves of golf balls.
(I'd packed many golf balls; one member of our group bought a sleeve of three Titleists in Ireland that, translating Euros to dollars, amounted to $6 per ball.)
So what did I think about my golf adventure in Ireland?
I'm a golfer, however lousy. I loved it.
Bucket-list courses
At the invitation of Tourism Ireland, nation's marketing wing, I played six courses in southwest Ireland last month with three other members of the Pacific Northwest golf media.
Joining me were Blaine Newnham, the former sports editor and columnist of The Eugene Register-Guard and the retired longtime columnist for the Seattle Times; Tom Cade, senior director of communications for the Pacific Northwest Golf Association and editor of Pacific Northwest Golfer magazine; and Rob Perry, of Bellevue, Wash., a professional golf photographer. We were two low-handicappers (Cade is a 2, Perry 3.6) and two not-low handicappers (Newnham's an 18).
We played Lahinch, Ballybunion and Tralee, then went on to Waterville Golf Links, Old Head Golf Links and Trump International Golf Links Doonbeg.
Green fees ranged from $156 at Trump/Doonbeg to $250 at Old Head. In between were Lahinch and Waterville at just under $170, and Ballybunion and Tralee at $200.
There are a myriad of course rankings, but one top 100 ranking of courses in the United Kingdom placed Ballybunion eighth, Lahinch 12th, Waterville 19th, Tralee 46th, Trump/Doonbeg 63rd and Old Head 67th.
"We're all part of a family," said Jay Connolly, a decorated Vietnam veteran who made his fortune on Wall Street and is a partner in Waterville.
"All the courses work together as a magnet."
The road to Doonbeg
Narrow roads. Left-side driving. Stone walls and stone ruins. Road signs in Gaelic and English. Cattle and sheep grazing; more rural open space than I expected. Villages, like Kinsale in County Cork, with brightly painted storefronts that seem to jump off a postcard. Streams, said to be alive with fish. Bright orange wildflowers. The Ring of Kerry, with amazing views of the coast and countryside. Friendliness, with a captivating accent. Homemade soup and thick brown bread. Guinness.
And great golf courses, playing with great people, with great discussions afterward. Those will be my memories of southwest Ireland. A thumbnail sketch of each course:
Lahinch: A truly wonderful golf course. It has history, dating to 1892, challenging holes, great views of Liscannor Bay and the town of Lahinch. My favorite holes were No. 5, a short par 3, the last surviving true Old Tom Morris hole, called The Dell, with a dune hiding most of the green; No. 6, a tough par 4 heading through the dunes and over a huge blowout hole, with a bunker at the bottom, to a green framed by the bay; No. 7, a par 4 heading north along the water; No. 8 and No. 11, both beautiful and tough par 3s; and No. 12, a long par 5, river to the left, the ruins of Dough Castle, dating to 1306, in the distance.
Ballybunion: Tom Watson said that every would-be golf course architect should play this course first and called No. 11, which runs along the water, one of the finest par 4s in golf; it's the No. 2 handicap hole where I felt proud to get a bogey. In truth, the first six holes at Ballybunion seem rather ordinary, along the road and past houses and a caravan park. Then the action heats up, along with the views. The ratings and reputation say it should be on your bucket list, a true trophy course, and it is, but … if I could go back and only play three of the six, I'd play Lahinch, Waterville and then Old Head or Tralee, though that's heresy in the golf kingdom.
Tralee: The movie "Ryan's Daughter" had scenes filmed here. Beautiful. Arnie has said that he designed the front nine (in the 1980s), but that God created the back nine, an incredible series of holes featuring dunes that resemble a mountain range and heroic holes along the coast. If so, God must trust His ability with a driver, or have a legion of angels to search for errant shots. Because this course punishes bad shots, and even some not-so-bad ones.
Waterville: My new favorite course. Great views of the River Inny estuary, Ballinskelligs Bay and the tallest mountains in Ireland, but also holes in which you lose yourself in the dunes. They've played golf on this land since 1880s, but an Irish-American, John Mulcahy, built this version in 1973 and Tom Fazio refurbished it in 2002. A favorite of the late Payne Stewart, this is a course you could play again and again.
Old Head: Spectacular views of the ocean on a peninsula on the southern tip of Ireland. The Lusitania was sunk near here; the lighthouse site has been active for centuries. Almost every hole had you grabbing your camera. We played late on a sunny Sunday afternoon, with the nearest group several holes ahead and no one behind, and the experience was one of those magical golf days you remember forever. And I broke 100 in Ireland with a 98!
Trump International Golf Links Doonbeg: Greg Norman designed the course, which opened in 2002; Donald Trump bought it from the original owners last year after a storm had severely damaged three holes. Trump's putting money into the place, with Hawtree retouching Norman's original design, which had to work around the habitat for an endangered snail. Not my favorite course, but it had tough acts to follow. I shot 97 and lost just one ball, hitting into a creek on the left on the par 5 No. 10 hole moments after Perry advised "just don't go left here."
Six rounds, 622 strokes, 22 golf balls lost and, sure, I wish I'd played better, more to my best, such as it is. But in the end, there's one shot that I will always remember from Ireland, in addition to the one that bounced off the car, because truly it wasn't about the shots, but about the experience.
It came at Lahinch, on the first day, on the par-5 fourth hole, inspired by the Klondyke hole that Old Tom Morris designed in 1894.
The golfer must hit a narrow fairway between two massive, grass-covered sand dunes, then clear another dune, the Klondyke Hill, in a blind shot to the green. My tee shot found the rough on the right-side dune, and my second shot back to the fairway left me 200 yards from the green that was hidden somewhere behind the Klondyke Hill. The white-haired Irishman at the top of the hill — stationed to protect golfers on the 18th fairway that crosses behind it — gave me a rough line.
Not so confident that I didn't warn the spotter to watch carefully — he immediately retreated a few paces from the logical line of fire, which certainly didn't guarantee safety — I hit a wonderful three-wood that cleared the hill majestically.
"Good shot," the Irishman called. "Well done!" The ball had stopped on the back of the green. Two putts later I had my first par ever outside the continental United States.
A heck of a shot, and in Ireland, on a hole inspired by Old Tom Morris. Granted, just one of the 114 strokes on my card that day, but a heck of a shot, the kind golfers remember in their souls.
For information on golf in Ireland, visit www.ireland.com.
---
Tags …