Scotland, revisited: David McLay Kidd realizes a career dream in designing Machrihanish Dunes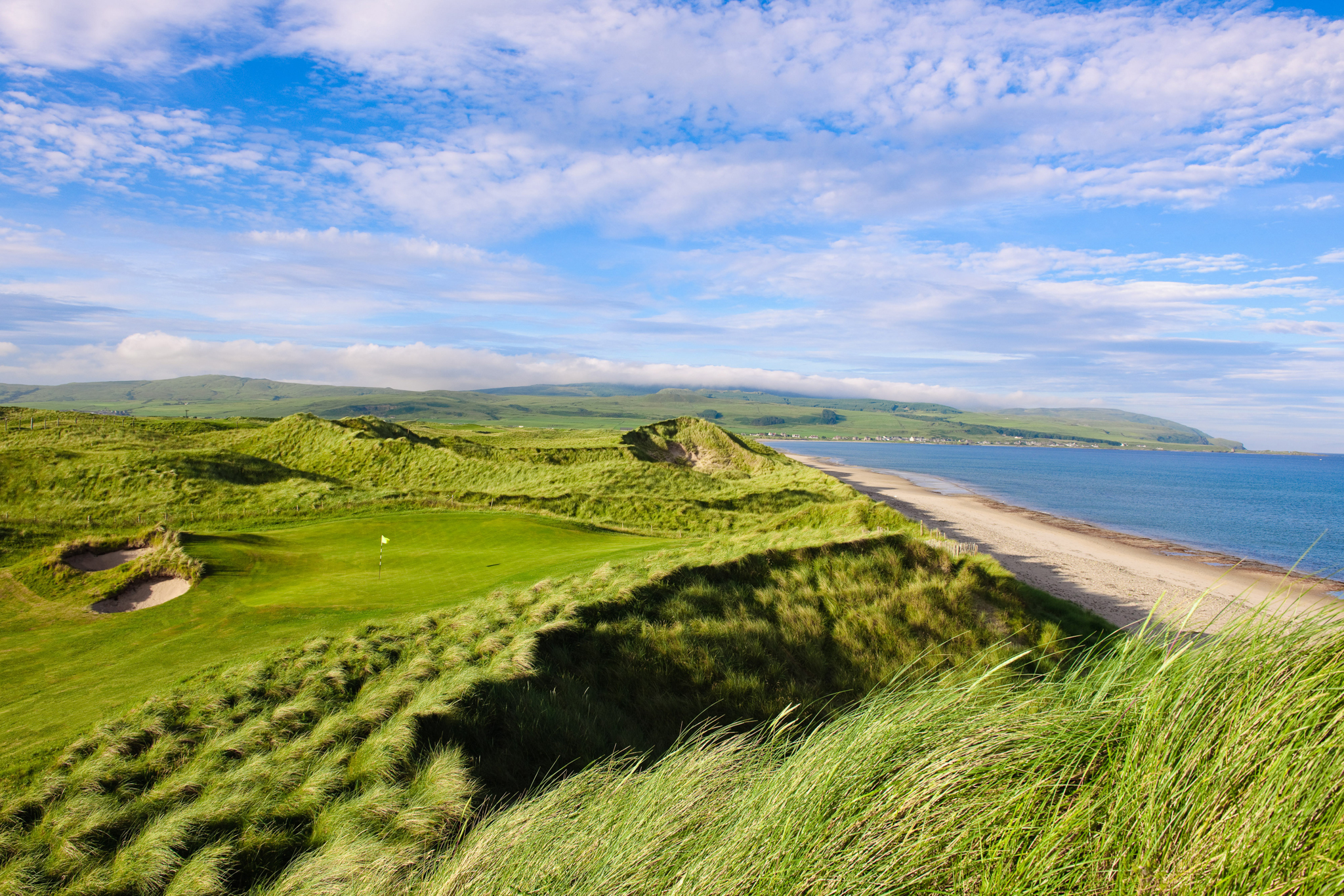 Noted golf architect spent childhood summers in these dunes, and carefully worked through considerable environmental restraints to build the golf course
MACHRIHANISH, ARGYLL, Scotland — When he designed Machrihanish Dunes Golf Club, near the bottom of the Kintyre Peninsula in western Scotland, David McLay Kidd was fulfilling a dream he had nurtured throughout his career. Because the noted golf course architect from Scotland — now headquartered in Bend, where he created Tetherow Golf Club — spent summer vacations as a youngster exploring these dunes overlooking Machrihanish Bay of the North Atlantic Ocean, and playing venerable Machrihanish Golf Club, laid out by Old Tom Morris in 1879 and rated among the top 100 courses in the world.
The irony is that Machrihanish Dunes, which opened in May 2009, the first new course in western Scotland in 100 years, might not realize its full potential as a golf course until long after Kidd's career is over.
The bottom line, for Kidd, and perhaps his enduring legacy with regard to Machrihanish Dunes, is that the course was built after all, despite strict environmental regulations because this spectacular dunesland has been designated by the government as a Site of Special Scientific Interest.
That restricted earth-moving to tees and greens, and it limited mowing to the narrow fairways, which were created by simply mowing the grass that was there and following natural contours through the dunes. On a 270-acre site adjacent to Machrihanish Golf Club, actual construction touched eight or nine acres.
As Kidd once put it: "We followed the lie of the land, and unlike most courses around the world, we did not lay out the course and make the land change with it. We designed each hole around the natural terrain. … We are returning golf to how it should be played. No longer is it a gentle walk in a garden; it will be a full-fledged mountaineering expedition at this course."
The result is a rough-hewn, still evolving course, perhaps not unlike a course of 130 years ago. Here is adventure — fairways with mounds that can truly become mountainous; blind shots followed by more blind shots; hikes through the dunes, from green to tee; ominous bunkers; challenging greens.
And here is true beauty, along the shore of Machrihanish Bay, the sound of the surf always in your ears, the waves rolling up on the beach often not far below the course itself.
With more freedom, Kidd noted, he might have created another Bandon Dunes, the first course at Bandon Dunes Golf Resort on the southern Oregon Coast that opened in 1999 and put Kidd on the map among the world's most sought-after golf architects.
"I always knew Machrihanish Dunes would be a work in progress, but in Scotland, where golf has existed for 600 years, every course is a work in progress, either by man, by nature or often by both," Kidd wrote in an email.
"I needed to get the idea of golf onto that special piece of land first. The final product might be a generation away, at least. Of course I would have liked more freedom to do as I wished — just look at Bandon Dunes for confirmation — but … I had to play by the rules and let time and tide do much of the work for me."
At the invitation of VisitScotland, the nation's marketing arm, I played Machrihanish Dunes in early September with three Northwest colleagues in golf journalism: Blaine Newnham, former columnist for the Seattle Times and Eugene Register-Guard; Tom Cade, senior director of communications for the Pacific Northwest Golf Association and editor of Pacific Northwest Golfer Magazine; and noted golf photographer Rob Perry.
Getting to Machrihanish takes some effort — it is a 4½-hour drive from Edinburgh, west across Scotland, then north and south around the Firth of Clyde, the long and winding road about which Paul McCartney sang. There is also ferry service across the firth, and short flights (and golf packages) from Glasgow to nearby Campbeltown.
The trip is worth the effort, beyond all words. Machrihanish is remote, peaceful, beautiful and truly special. The opportunity to play two courses — the well-established Machrihanish Golf Club, with its iconic first hole that requires an opening drive over a spit of beach, and Kidd's precocious Machrihanish Dunes — makes this an excellent golfing destination.
And by elite golf standards, green fees are quite reasonable — 95 British pounds (about $125) for a day pass, or 75 pounds (about $99) at Machrihanish Dunes, and 65 British pounds ($85) for a single round or 95 pounds (about $125) for a day pass at Machrihanish Golf Club.
The story of Machrihanish Dunes begins with Australian businessman Brian Keating, who made his fortune with Apple, Inc., sought a new challenge in the early 2000s, was inspired to build a golf course and found this dunesland on Machrihanish Bay.
Keating leased the land, hired Kidd, and along the way entered a partnership with David Southworth, whose company, Boston-based Southworth Development, would manage both the golf course and two hotels: the Ugadale Hotel & Cottages in Machrihanish, just across the street from Machrihanish Golf Club, and the Royal Hotel in nearby Campbeltown. (It also would manage a pub.)
Ultimately, Southworth acquired majority ownership of the golf course and hotels, which have been refurbished, a $30 million investment, according to Kevin Lewis, marketing director and interim general manager of the facilities.
When it opened, Machrihanish Dunes got mixed reviews. Wrote Adam Lawrence last year in Links Magazine:
"The government's consent allowed for little to no earthmoving and put large parts of the site off limits on environmental grounds. As a result, Kidd's design, laid out over the natural contours, included more blindness than most golfers had seen in a lifetime, wild greens and some very long walks between holes. It was beautiful, with much to recommend it, but it could not be called a comfortable round. Many of the earlier visitors left saying 'never again.'
"Time is a great healer. The course managers and the environmentalists have forged a new, more collaborative relationship, leading to extensive changes. Kidd's father, Jimmy, a noted greenkeeper who has a house in the area, has overseen the building of several new greens, while fairways have been widened and the rough thinned. It's still a long walk, but the Dunes is starting to mature in a way that a course built 100 years ago would, with its faults ironed out as they are revealed."
It seems a fair assessment, and interestingly Kidd and the builders of Machrihanish Dunes managed to avoid the bitter controversies engendered when Donald Trump built a course on a Site of Special Scientific Interest at Aberdeen in northern Scotland.
"As time went on, the turf improved, the greens improved," Lewis said. "As wild as it is today, it was wilder then. Things softened a bit, we worked on the hikes between tees and greens, and tried to take some of the humps and bumps out of it without doing anything that would be opposed (by the environmental agency). … It used to be if you didn't hit the fairway it was gone. Now it's a very playable golf course."
And a golf course that figures to be a special, ever-evolving chapter in the legacy of David McLay Kidd.
Originally published in The Bend Bulletin, Oct. 11, 2016.
---
Tags …