Trip Kuehne: A long rainbow ends at Bandon Dunes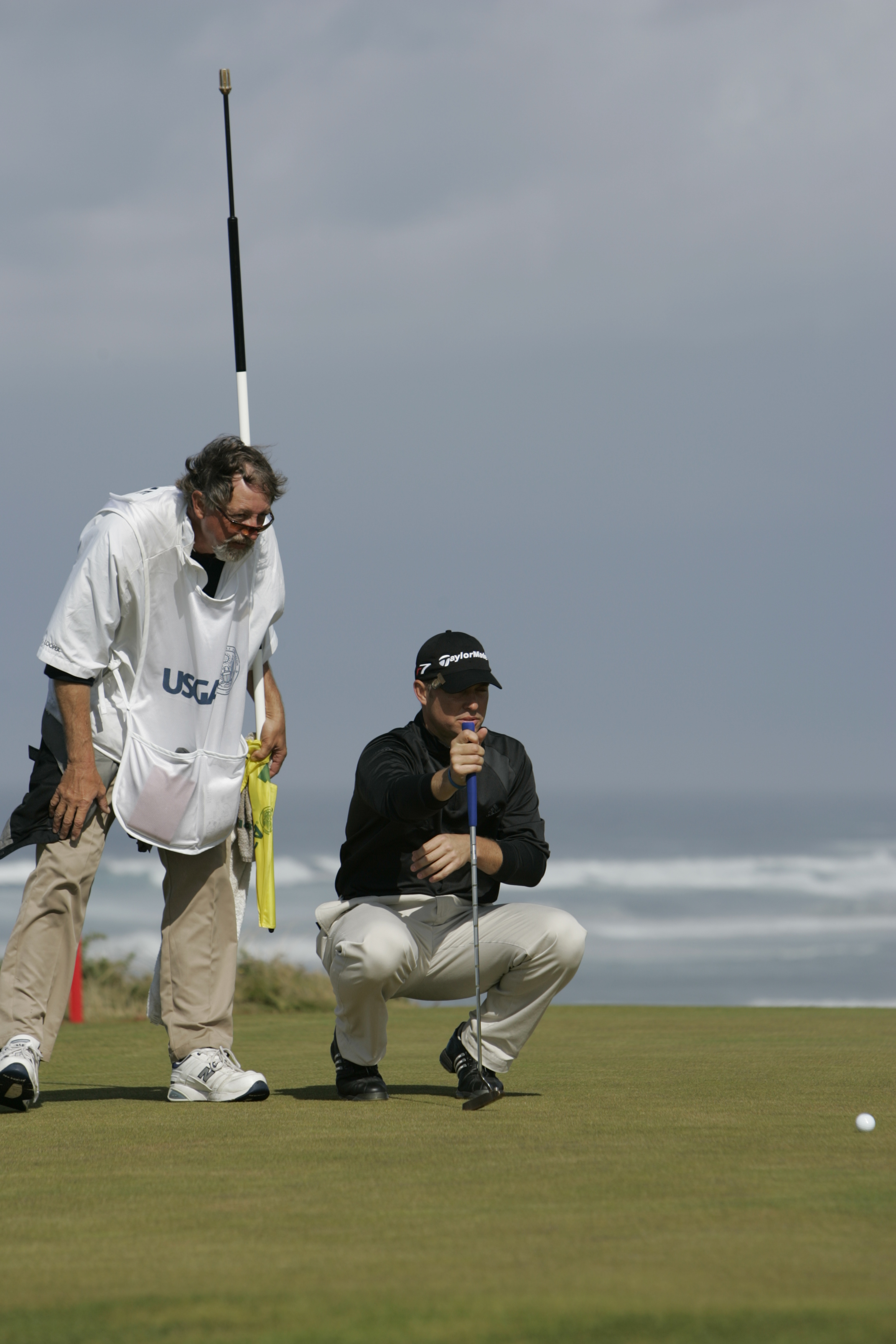 Trip Kuehne's quest for an individual USGA title finishes in the 2007 Mid-Amateur
In 1994, a young golf sensation, 18-year-old Tiger Woods, rallied from a five-stroke deficit with 12 holes to play to defeat Oklahoma State junior Trip Kuehne and win the U.S. Amateur crown.
Woods went on to become Tiger Woods, dominant on the PGA Tour, one of the greatest players in the history of the sport.
And Trip Kuehne would start an investments business in Irving, Texas, remain a high-level amateur and try 27 more times to grasp the individual U.S. Golf Association title that he couldn't quite reach in 1994.
Later that same year, a young Scots golf architect, David McLay Kidd, wrote a six-page single-spaced letter outlining his concepts for a golf course on the cliffs above the Pacific Ocean just north of Bandon, Ore.
Mike Keiser, who had purchased the property three years earlier with the improbable vision of creating a world-class links golf course on that remote stretch of land, accepted the proposal. "Let's begin," he responded.
So commenced the building of Bandon Dunes, where Trip Kuehne's quest for an individual USGA title would finally end, in the 2007 USGA Mid-Amateur.
By then, Bandon Dunes was an incredible success, the original course that opened in May 1999 having been joined by Pacific Dunes (Tom Doak, 2001) and Bandon Trails (Bill Coore, Ben Crenshaw, 2005), with Old Macdonald (2010, Tom Doak, Jim Urbina) in development, all walking-only, and the place had hosted the 2006 Curtis Cup.
And by then, Kuehne's younger brother, Hank, had won the 1998 Amateur, and his younger sister, Kelli, had won back to back U.S. Women's Amateurs in 1995 and 1996 after the winning USGA Junior Girls title in 1994
At last, "it was destiny and my time," Kuehne said recently. "It was the right golf course being Bandon Dunes, at the right time in my golf career.
"Maybe that's why it took so long, that there was always this plan for me to win on a links-style golf course; I'd only played Walker Cups on links style golf courses. To do it on Keiser's golf courses, where he's been very dedicated to the amateur golf game, I think it put an exclamation mark on it.
"I was the right guy in the right place on the right golf course that had the right visionary owner that loves amateur golf."
Kuehne had visited Bandon Dunes a couple years earlier and came away very impressed. He was 35 when he returned to Bandon Dunes in late September 2007 for the USGA Mid-Amateur. At that point he had played in four U.S. Opens — he was low amateur in 2003 — and on three Walker Cup teams, and was a marquee name in amateur golf.
Keiser knew Kuehne's backstory and admired the fact that he'd remained an amateur. After all, amateur golfers were the inspiration and motivation for Bandon Dunes, and here was the consummate amateur, seeking his first USGA title in a tournament that catered to the very market — golfers 25 and older — that Keiser had targeted.
After struggling with poor play earlier that summer, Kuehne had worked hard on his game, and that would produce the best stretch of golf in his career. He played well in the Walker Cup at Royal County Down in Northern Ireland, part of a winning team for the first time. He won a USGA team title with Texas before traveling to Oregon.
"I was playing great golf," he said. "I had just got done playing 10 days of links golf because of the Walker Cup. I loved the golf courses and knew my golf game was good."
Stroke play qualifying took place on Bandon Trails and Bandon Dunes, and Kuehne was a co-medalist in heavy rain and strong wind gusts.
"To me, that's what separates memorable golf courses and great golf courses from just your average golf course," he said, of the way the changing elements influenced play. "The fact that each day you go out it's a different experience because the elements are so different and each one is very enjoyable in its own right."
In the 36-hole final, Kuehne defeated Dan Whitaker 9-and-7. He almost didn't get there. He needed 20 holes in the quarterfinals to outlast Stephen Sear and was three down to Scott Hardy with seven to play in the semifinal that afternoon.
He stayed alive with a birdie No. 12, a par 3 with nothing but the Pacific Ocean behind it, the first hole that David McLay Kidd built at Bandon Dunes. He squared the match on 16, but lost the 17th hole when he "laid the sod" over a pitching wedge and plunked his shot into the deep ravine that protects the green, and faced elimination as Hardy assessed a four-foot birdie putt on the par 5 No. 18.
Hardy missed. Kuehne won with birdie on the 19th hole and slept well that night.
"I was confident," he said. "I'd gotten a reprieve by a guy missing a putt that should have knocked me out but didn't. It was my time."
On the morning of the final, the USGA notebook recorded that some spectators saw a double rainbow, and quipped that it ended at the Robert T. Jones Memorial Trophy. Kuehne remembers a rainbow, and some rain and some sunshine, and the feeling of confidence as he made birdies and pars and not a single bogey.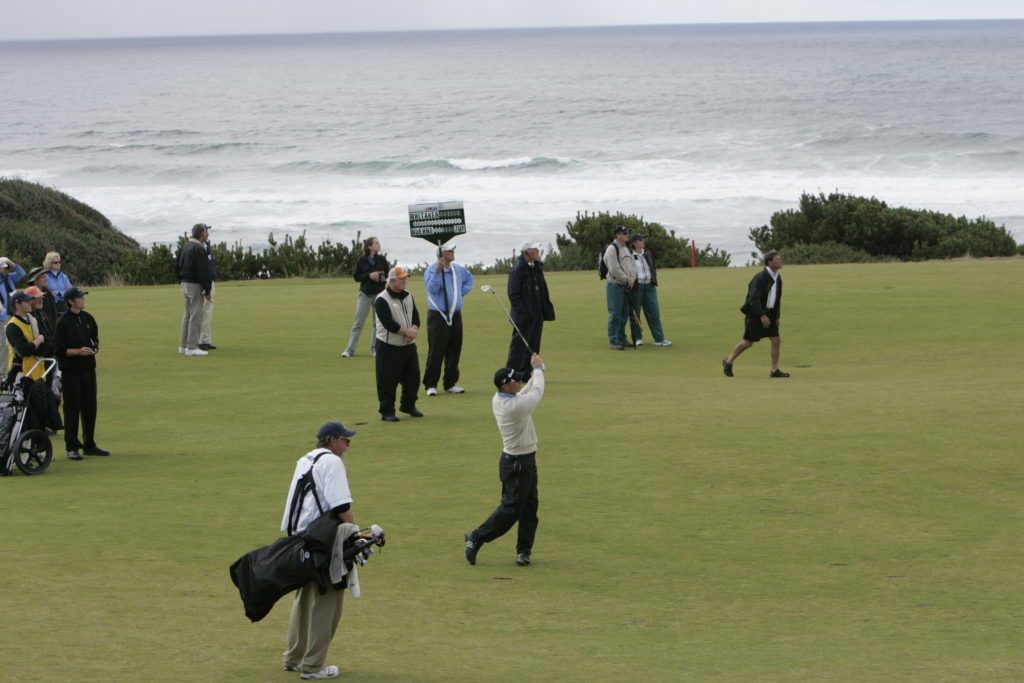 "To finally be able to put my name on an individual trophy to match my brother's and sister's is a dream come true," he said that day. "Never thought it would happen. …
"Couple of the toughest things for me is just the pressure that I put on myself. Been chasing the ghost of Bobby Jones and the legend of Tiger Woods my entire golf career, and to finally get my individual title, being the Bobby Jones trophy, is special to me."
By virtue of his win, Kuehne played the 2008 Masters, on the golf course created by Bobby Jones, the greatest amateur, missed the cut and retired from competitive golf. It was time to devote that time to his son Will in the decade that remained before college.
Now, with Will an incoming freshman quarterback at North Texas State, Kuehne has set new goals in golf at age 46. If he qualifies for the USGA Four-Ball, the U.S. Senior Open when he turns 50 and the U.S. Senior Amateur at 55, he will have played in every possible USGA event open to him.
Alas, Kuehne did not succeed in qualifying last fall for the 2019 USGA Four-Ball, which will be at Bandon Dunes in May. The U.S. Amateur will be staged there next year, but "I think my days of playing for the U.S. Amateur are probably in the rear view mirror," he said.
Nevertheless, Kuehne appreciates that next year's U.S. Am will be the seventh USGA championship at Bandon Dunes, and acknowledges the contribution of Mike Keiser to the sport.
"He's been an incredible visionary," Kuehne said. "It's been very nice to have a place like that that's so unique, especially in America, that has hosted a bunch of USGA events which are the pinnacle events in the United States for amateurs."
For Keiser, Kuehne's win in that Mid-Am remains special among the events that Bandon Dunes has hosted.
"I loved the Mid-Am, because they represented who I built the golf course for, or the best of the amateur golfers of a certain age," he said. "That was my favorite."
A version of this story originally appeared on Pacific Northwest Golf Association web site April 2019.

---
Tags …